The numerous new faces of the steinexpo 2014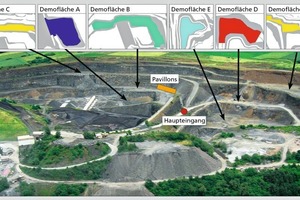 Quelle/Source: GEOPLAN
1 Der Messesteinbruch wird sich für die steinexpo 2014 erheblich verändern • The quarry fairgrounds for the steinexpo 2014 will change considerably

Quelle/Source: GEOPLAN
Looking in January at the registrations for steinexpo 2014, which takes place from September 3 to 6, an increase of 31 % in comparison to the closing date of the previous trade fair in 2011was recorded. 150 exhibitors representing 228 brand marks had already registered. This translates into 85 % of the available exhibition area (180 000 m2 gross) which has already been allocated. But that's not the real sensation. Given the excellent response to and evaluation of the three previous trade fairs, the organizers had already expected growth. Much more astonishing is the fact that 23 % of new exhibitors have signed up for the steinexpo 2014 so far. Obviously, the positive reputation of the steinexpo is spreading rapidly even beyond the scope of the relevant core industries and contributes to an increased international awareness as well. Whoever wants to make a "three-point-landing" in the mineral raw materials sector, in mining or in the building materials industry in the German market can no longer ignore the possibilities of the steinexpo as a focused mediator between supply and demand.
For each activity the matching "exhibition stand"
The meanwhile well-known trade fair presents itself in modified design. Of course, many of the regular exhibitors want to have "their" familiar steinexpo stand again at the subsequent fair. Contrary to the past, this was not generally possible this time. What worked out for some of the exhibitors - the demo area, for example, that Zeppelin/Cat had attractively filled with a carefully matched fleet of construction machines in 2011, will again be available to the company in 2014 – could no longer be offered to other exhibitors in particular to those of the previous and very centrally located Area A. Due to the ongoing basalt extraction in the Nieder-Ofleiden quarry, the 2014 fair required a completely new layout planning (Fig. 1).
It has always been more difficult to ensure the visitors' attention to exhibitors in the large tent halls next to the appealing outdoor performances, since in the past, experience has shown that, in particular when the weather is good, the visitors' rush towards the tent halls remained cautious – unless there was need for special information. Therefore, another redesign involves the presentation of exhibitors in the tent halls. Now, the new concept for these "halls" addresses the wish of the exhibitors to be more integrated in the events – with variably opening side walls and the innovative stand layout (Fig. 2).
Opening the sidewalls breaks down the separation from other show events while the space allocation ensures that as many tent exhibitors as possible will profit from this improved modification. Finally, a trade fair does not only live from visitor looking for a specific stand, but also from interesting chance acquaintanceships when finding unexpected and clever solutions.