Trouble-free transport for almost 20 years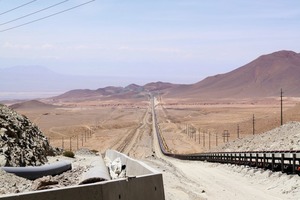 Quelle/Source: Doppstadt
1 Extreme climatic conditions in the Atacama desert are a challenge for man and material
Quelle/Source: Doppstadt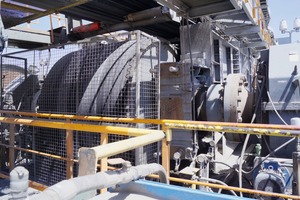 Quelle/Source: Doppstadt
2 A total of 17 belt drums were installed for the operation of the 12 km conveyor system
Quelle/Source: Doppstadt
The Sociedad Contractual Minera El Abra is one of the leading mining enterprises in Chile. It extracts copper ore in one of the largest opencast pits in the Atacama Desert in the northern part of the country. For the transport of the copper ore for the processing the enterprise planned the construction of a long distance conveyor system together with the manufacturer MAN-TAKRAF in the early 1990ies, which should be equipped with Doppstadt belt drums.
Construction and operation of the conveyor system were a challenge in all respects: A line of a about 12 km had to be built and operated, up to 500 m of differences in height had to be surmounted and up to 6400 kW of driving power had to be transmitted. Furthermore the climatic conditions of the desert (Fig. 1) with daytime temperatures up to 30 °C and nighttime temperatures up to 15 °C below zero made high demands on the material strength of the used products – and on the engineers who installed them.
Doppstadt equipped the plant with a total of 17 belt drums (Fig. 2): 2 drive, 6 return and 9 snub pulleys with 0,5-2,5 m diameter. During the co-operation of the MAN-TAKRAF and Doppstadt engineering departments sophisticated technical and technological solutions were developed, mainly to protect the heavily stressed belt drums in order to transfer the enormous forces and torsional moments for many years and with high safety (Fig. 3). In this connection the Doppstadt staff members could profit from their long years of experience and their technical engineering know-how in the construction of opencast mining plants.
Carlos Valdivia M., Maintenance Engineer, SCM El Abra says: "In the year 1995 the Sociedad Contractual Minera El Abra company put one of the longest overland conveyors of South America with about 12 km length into operation. The mining area of El Abra in about 4500 m hight prepared a huge challenge on humans and material. At that time this conveyor developed by the MAN-TAKRAF company was equipped with the most powerful highest-quality belt drums manufactured by Doppstadt FAC. For almost 20 years now, this plant has been running without any failure and to our company's full satisfaction. Since the start-up the Doppstadt Company is a reliable partner and service provider for the belt drums in our company."