RUBBLE MASTER
RM Xperience Days 2014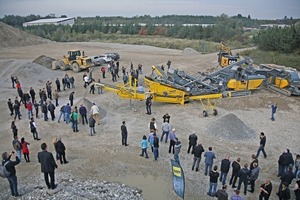 Quelle/Source: RUBBLE MASTER
Bei der Produkt Demo erlebten die Kunden den RM V550GO!, der in nur einem Arbeitsgang aus bis zu 250 mm großem Aufgabematerial Sand und zwei zusätzliche Fraktionen produzierte • At the product demo customers experienced the RM V550GO! in action, producing sand and two additional fractions from up to size 250mm feed material in a single pass
Quelle/Source: RUBBLE MASTER
Around 200 RUBBLE MASTER customers and sales partners from all corners of the globe were once again able to enjoy the RM Xperience Days this year. The global market leader in Compact Crushing demonstrated two of its mobile RM crushers to its customers as part of the event. Prior to this the company presented what makes it stand out in terms of service and consulting plus the technological highlights of the RUBBLE MASTER machines.
"The fact that customers visit us from all corners of the globe is a clear sign of our customers' and sales partners' commitment to us and confirmation that our focus is on customer relations and service," says Gerald Hanisch, CEO at RUBBLE MASTER, talking about the RM Xperience Days at the beginning of October at the RM Headquarters in Linz. "Guests from Chile to New Zealand were captivated by the RM products and the RM spirit. A number of contracts were also signed as a result," says Hanisch. The roughly 200 guests were particularly impressed by the product demo which featured an RM 100GO! – the pro when it comes to tough recycling jobs – recycling concrete with an extremely high iron content and an edge length of the feed material of up to 600 mm. The RM V550GO!, the fully mobile sand and gravel plant was shown in action together with the RM CS4800 final screen (Fig.).
In keeping with the sense of edutainment there was an extremely varied side programme in addition to the technical highlights and benefits of the RM crushers. During the course of their stay guests were treated to both cultural and culinary delights from Linz. The visit to the voestalpine Stahlwelt and St. Florian Monastery were just two of the highlights enjoyed by the visitors to the RM Xperience Days.
RUBBLE MASTER is in the pole position not only when it comes to mobile crushers. Saturday saw customers and sales partners competing against each other in a kart race. Drivers battled for victory with the accent on fun and friendship at the RM racetrack in Linz Südpark. "At RUBBLE ­MASTER the business relationship begins once the machine has been purchased," says CEO Gerald Hanisch, emphasising the importance of customer loyalty measures. Events such as the Xperience Days are just one example of numerous activities initiated by RUBBLE MASTER to offer customers and sales partners comprehensive service also after the contract has been signed. The RM Academy, the company's own training centre with the very latest technology, customer loyalty programmes and lifetime machine service are just as important to Rubble Master as the innovative further development of the machines.