Frictionless
Drive solutions for continuous conveyors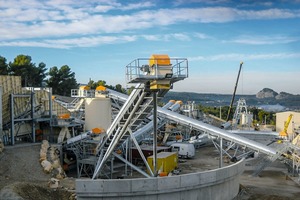 Quelle/Source: NORD DRIVESYSTEMS
1 In Steinbrüchen sind zum Antrieb der Gurtbandförderer leistungsstarke Industriegetriebe gefragt, wie NORD DRIVESYSTEMS sie im Angebot hat • In quarries, powerful industrial gear units such as those from the NORD DRIVESYSTEMS range are required to drive belt conveyors
Quelle/Source: NORD DRIVESYSTEMS
N‌ORD DRIVESYSTEMS offers powerful drive systems for transporting bulk materials that are characterised by maximum reliability, safety and robustness and ensure smooth operation even under the toughest environmental conditions.
Bulk material handling makes great demands on conveyor belts and their drive technology. Different conveyors are required according to the direction of transport, volume flow, conveyor length and construction. Reliable and robust NORD drive units ensure uninterrupted flow of materials. They ensure a precise, dynamic flow of materials which can be individually controlled.
Belt conveyors are conveyor systems which are used for continuous transport of general and bulk materials, for example in mining, mechanical engineering or in the field of plastic and paper recycling. Especially large conveyor lengths, quantities and speeds can be implemented. Belt conveyors feature a continuous rubber or plastic belt as well as tensile elements for strength. The conveyor belt passes over at least two drums, whereby at least one drum is powered and moves the belt through wrapping friction.
Industrial gear units for special requirements
Durable and low maintenance MAXXDRIVE industrial gear units in which the bearing points and sealing surfaces of the UNICASE housing are produced in a single operation are ideal for large belt conveyors with high capacity. The latest generation MAXXDRIVE® XT has been supplemented with an application-optimised two-stage helical bevel gear unit – ideal for belt conveyor systems in the bulk materials and mineral industries. The power and speed range has been specially adapted to the needs of the target industries.
Thanks to their two versions, helical or bevel gear units with flange mounted or push-on housings can be mounted parallel or at right angles to the axis in conveyor systems. They can be combined with a foot-mounted, high efficiency IE3 motor on a motor rocker or frame and are connected to the motor via a hydraulic coupling. As most bucket conveyor applications involve production of dust, there is a risk of explosion if the dust is flammable. In this case, motors and geared motors with customised explosion protection are used, which NORD ­assembles from its modular range according to individual requirements. The practical maintenance package from NORD – a combination of protective measures and monitoring systems – ensures that the investment functions even under harsh ambient conditions such as continuous operation, dust and the effects of weather.