Drive system
New NORD industrial gear units for maximum performance in bulk material logistics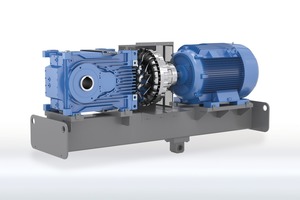 Quelle/Source: NORD DRIVESYSTEMS
1 Die neuste Industriegetriebe-Generation MAXXDRIVE® XT ist die perfekte Lösung für Anwendungen, in denen geringe Übersetzungen in Kombination mit hohen Leistungen gefragt sind • The latest generation of MAXXDRIVE® XT industrial gear units is the perfect solution for applications which require low speed ratios in combination with high powers
Quelle/Source: NORD DRIVESYSTEMS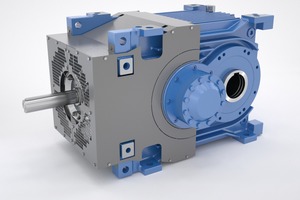 Quelle/Source: NORD DRIVESYSTEMS
2 MAXXDRIVE® XT-Industriegetriebe sind für Bandförderanlagen in der Schüttgut- und Mineralienindustrie hervorragend geeignet • MAXXDRIVE® XT industrial gear units are ideal for conveyor systems in the bulk material logistics and mineral industries
Quelle/Source: NORD DRIVESYSTEMS
T‌he MAXXDRIVE industrial gear units from NORD DRIVESYSTEMS provide high output torques from 15 to 240 kNm and are ideal for use in heavy duty applications such as agitators, belt drives, mixers, mills, drums or crushers. The tried and tested modular system has been extended with the new MAXXDRIVE® XT industrial gear unit series. With high thermal limit powers this has now been optimised for bulk material logistics applications such as conveyor belt systems. All drive solution components are precisely matched to each other and ensure smooth operation under demanding conditions. These includes large temperature fluctuations, abrasive environments, and rough operating conditions.
Proven technology taken a stage further
The NORD range has included MAXXDRIVE® industrial gear units for ten years and in this time, they have been developed further. The new 2-stage MAXXDRIVE® XT helical bevel gear industrial gear units were specially designed for applications which require low speed ratios in combination with high powers. This is the case for example in the bulk material logistics and minerals industry. There, especially robust solutions which are resistant to dirt and are reliable in rough operating conditions are required. This calls for special sealing concepts which need as little maintenance as possible. In addition, the drive systems must only require fan cooling. Application-optimised MAXXDRIVE® XT industrial gear units are optimally equipped for this and can be customised to suit the particular application. Thanks to the modular system, many options and equipment from the existing MAXXDRIVE® series can be used. Many options are adopted from our tried and tested modular industrial gear unit series, so that delivery times are similar to those for our standard gear units.
Cooling concept for high power limits
Output torques of the MAX­X
DRIVE® XT series range between 15 and 75 kNm with speed ratios of 6.3 to 22.4. MAXXDRIVE® XT industrial gear units are available in seven sizes for powers from 50 to 1500 kW and torques from 15 000 to 75 000 Nm. In contrast to the previous designs, as standard the series is equipped with a heavily ribbed UNICASE housing with an integrated axial fan. Due to the increased surface and the air guide covers, the cooling air flow is optimised and a very high thermal limiting power is achieved. In many cases, addition cooling is not required. This is made possible by means of Computational Fluid Dynamics (CFD) to optimise the design and the fan. As well as this, the thermal concept has been optimised in the test area and the solution has been further improved in the basis of the knowledge which has been gained.
Economical modular system
All NORD drive solutions are planned for individual customers according to the modular principle. With the matched modular system attractive solutions can also be provided for price-sensitive industries. This is based on a comprehensive range of frequency inverters, motors and gear units, as well as coupling and brake systems, each with a wide variety of options. Features such as hydraulic couplings tailored to the particular process or Taconite seals, which effectively protect shaft sealing rings against abrasive dust and corrosion, ensure smooth operation. Large roller bearings and centre distances increase the load capacity and service life of the components. High precision bevel gears ensure quiet running.
Networked maintenance concepts
NORD is also testing innovative predictive maintenance concepts especially for heavy industrial gear units. Via the frequency inverter, networked NORD drive units communicate their status data via the control system or communicate directly into a secure Cloud. The objective is to detect condition changes at an early stage with optional vibration monitoring for predictive maintenance. Recording of the performance data also ensures optimal dimensioning of the system as well as continuous condition monitoring of the drives.