dsb innocrush 35 with screenbox for Switzerland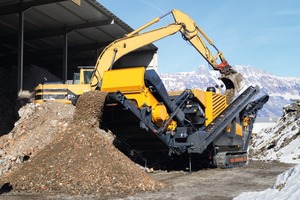 Quelle/Source: dsb Maschinenbau GmbH
1 innocrush 35 mit aufgebauter Siebbox innoscreen IS2 und schwenkbarem Rückführband beim ersten Einsatz # innocrush 35 with innoscreen is2 and slewable return conveyor at first use
Quelle/Source: dsb Maschinenbau GmbH
In recent years, the Upper Austrian company has become very established in Switzerland. Recently, an innocrush 35 with screenbox is2 was delivered to W. Kressig AG in Switzerland.
W. Kressig AG was founded in 1971, has constantly expanded and grown up to one of the leading company in the region. Competence, high quality standards and clear cost transparency are the cornerstones of today's company philosophy." With many years of experience and our motivated, competent employees, we offer optimal solutions for every customer. We are constantly investing in modern and efficient machines. The innocrush 35 with screenbox is2 and refeed-/stockpile conveyor, which has been now supplied appropriate to our corporate identity, supports our work optimally. I appreciate the high quality and easy handling of the plant. A crusher has to be ready for use immediately. Low operating-, service- and maintenance costs have top priority for me," says managing director Alain Kressig.
The innocrush 35, which is powered by a generously dimensioned, high-torque CAT C9.3 engine, achieves a performance up to 350 t/h. The machine width with installed slewable refeed-/stockpile conveyor is less than 3 m and can be easily transported. A special USP is the innodrive. The unique direct drive without clutch is maintenance-free and guarantees 100 % power transmission.
The screenbox is2 with extra-large screen area is the optimal supplement to the dsb-plant. It completes the crusher with a simple add-on into an adequate screening machine, which does not need any additional drive and ensures the highest screening performance. The screen area can be cleaned comfortably without lowering the screenbox, as the head of the main conveyor can be hydraulically folded. The speed of the screen, but also of the cross- and return conveyor can be extra continuously adjusted. Due to the slewable return conveyor the oversized grain can also be carried out to an extra stockpile. Thereby a time-consuming, multiple reloading of material can be avoided.