Designed for toughness
Atlas Copco's portable air compressors pass rigorous test series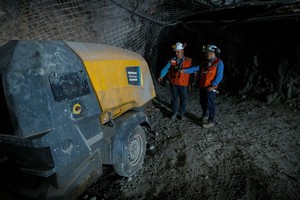 © Atlas Copco
1 Compressors are required to endure extreme conditions while maintaining optimal performance
© Atlas Copco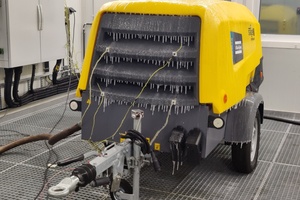 © Atlas Copco
2 In the climate chamber temperatures can be tested from 40°C down to -25°C
© Atlas Copco
Used on everything from water well drilling to explorational mining, tough compressors are required to endure extreme climates, altitudes and air conditions while maintaining optimal performance, no matter how demanding the conditions. To ensure the compressed air units are fit to weather any storm or terrain, their endurance must be put to the test. Atlas Copco's Portable Air division has created a range of rigorous testing processes for each of its portable compressors to undergo to guarantee the units worthy of their status as the toughest on the market. Their high quality, ultra-robust and durable design is pushed to their very limits to prove they are built to last, and can maintain reliable performance in any application, under any circumstances.
Testing with the elements
Portable air compressors are usually located outdoors, where they are exposed to humidity, rainfall and dust. Exposure to each can wreak havoc on a portable compressor's materials and impact the unit's expected lifecycle. Atlas Copco's portable compressors are designed and tested to prevent damage, explains Gill Dhooghe, VP of R&D at Atlas Copco's Portable Air Division. "One of the many trials our compressors must face before being proven fit for use occurs inside our rain test yard, where they are exposed to a true-to-life but machine-actioned 'rainfall'. Here, the high-quality materials, durable components, protective features and smart design of Atlas Copco compressors are really put to the test. The units will remain corrosion, rust and salt resistant even in monsoon conditions, giving our customers total faith its performance for decades – while also giving the units an exceptional resale value."
Once dust enters a compressed air stream, it can have detrimental – and costly – consequences for downstream equipment and end products. Atlas Copco's units are designed for a long-lasting life, which is why all new units and their high quality filters are tested against dust to protect customer's investments. "All units are also put through gruelling road testing, where they are dragged through uneven terrain and their lifting beams tested to see what tensile forces they can withstand," Dhooghe details. This guarantees their readiness to be transported to every location imaginable, and demonstrates the quality of the unit's chassis and linear medium-density polyethylene (PE) material canopy – to name but a few components, further proving the portable compressors are built to last.
Even using the portable air compressors in Death Valley or Antarctica is no problem. Working in conjunction to the rigorous rain, dust and road testing processes, Atlas Copco's futuristic, high-tech climate chamber imitates the most challenging climate's conditions that compressors may be exposed to, by bringing freezing and desert-like conditions to the chamber. The climate testing method includes a portable air compressor being placed inside the chamber, where Atlas Copco's engineers can manually manipulate any climate conditions through a variety of mechanical processes. Temperatures can be tested from 40°C down to -25°C, ensuring that each unit always keeps its cool and at optimum performance.
In addition, Atlas Copco Portable Air also tests the performance of the machines at extreme, varied, and real-life altitudes. This is where the compressor's robust design and high-quality materials prove the unit to be undoubtedly worthy of its ultra-tough status. "In the mountains the atmospheric pressure, oxygen levels and extreme cold can be best tested," explains Dhooghe. "Our team has previously tested units up in the Kunlun Mountains in China, where we not only got the chance to successfully trial our compressors 4500 m above sea level, but also amid a hailstone sandstorm. It's scenarios like this that undoubtedly prove that our portable compressors are cut out for even the toughest of challenges."