Increased energy efficiency in high-temperature processes
Drying, calcination, reaction: higher product quality coupled with lower emissions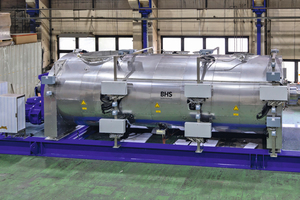 © BHS-Sonthofen
2 The BHS horizontal dryer makes it possible to work with sticky, viscous material in pyrolysis applications
© BHS-Sonthofen
There are things that are quite literally heating up in many fields of industry. With the development of new materials, the number of high-temperature processes is continuously growing. In the past, drying ovens or rotary kilns were frequently used in this temperature range. However, dynamic processes in horizontal or vertical contact dryers offer significant advantages, primarily in terms of product quality, energy efficiency and emissions.
When it comes to the processing of minerals, the recycling of batteries or photovoltaic cells or the pyrolysis of biomass, high-temperature processes are integral to a number of industrial applications while they are also increasingly in demand. They have to meet high quality standards in terms of product and throughput, produce fewer emissions and maximize energy and resource utilization.
Up to now, the thermophysical or thermochemical processes, such as combustion, calcination, thermal cracking, gasification and even smelting, were carried out in a variety of technical plants like kilns, rotary kilns or drying ovens. These processes require a lot of energy and often product quality is compromised. The dynamic process of contact drying, on the other hand, makes it possible to treat filter cakes, sludge or bulk materials more efficiently. Along with that, it can also be integrated into various process chains.
During contact drying, the relevant raw material is separated into a solid and a liquid condensate. Heating temperatures of up to 650 °C are made possible by the reactors and high-temperature dryers from BHS-Sonthofen Process Technology. The machines are manufactured based on careful calculations using the finite element method (FEM) and made from special high-temperature steels, meaning they are able to withstand consistently high loads.
High product quality thanks to constant, uniform temperatures
In conventional high-temperature ovens, the product is not agitated, leading to uneven drying. As a result, the process cannot be precisely controlled. In high-temperature processes, however, the temperature of each particle plays a key role. If the temperature deviates whatsoever, the product will have to be discarded. By contrast, the continuous homogenization that takes place in a contact dryer means that the time and required product temperature are always precisely controlled, resulting in higher product quality and lower scrap.
Continuous mixing in dynamic processes
The special feature of the dynamic process in contact dryers is the continuous mixing that is carried out for the full duration of the process. In other words, by combining the steps of heating and mixing, a fully homogeneous product is achieved throughout the entire process. New particles are continuously being conveyed over the heating element so that the heating surface remains optimally utilized at all times. Along with that, the design of the heating surface ensures optimum heat transfer to the product. By mixing the material in this way, temperatures also do not get too high or too low. All parameters can be precisely controlled throughout the process, which is a critical factor for product quality. In addition, homogeneous mixing leads to significant gains in efficiency.
No energy is wasted
Rising energy costs have been an issue for many years. In 2022 this has taken on a whole new meaning. As a result, energy-intensive high-temperature processes are increasingly coming under scrutiny. Rotary kilns, for example, are heated exclusively using natural gas, while the product is also continuously rotated, which requires a lot of energy. In contact drying, the homogeneous temperature distribution makes it possible to precisely control the amount of energy input into the product. The machines are designed as a fully enclosed, insulated system, thus reducing heat loss to a minimum. This conserves energy, which in turn reduces production costs.
Carrying out the process in an enclosed system makes control and operation much easier. Unlike open high-temperature furnaces, the product does not come in contact with the environment. As a result, operating personnel are not exposed to unwanted emissions. Filling and emptying are also performed automatically, which means no staff are required to carry out these two steps. At the same time, no product is lost into the environment.
The core components of the systems used are vertical or horizontal contact dryers that are indirectly heated and can be run either in batch or continuous operation. In many cases, several steps such as mixing, evaporation and reaction can be performed by a single machine. The dynamic drying process often makes other downstream shredding processes redundant since the product comes out of the dryer in the required form. Several examples of where contact dryers are used in calcination and pyrolysis will be presented in detail below.
Calcination: high mineral content and efficient vacuum operation
Calcination describes a wide range of processes in which input materials such as minerals or metals are modified under thermal treatment. Minerals that contain different amounts of hydrate are often heated with the goal of splitting off physically bound water. Gases and water vapor (evaporation) are also released in the process.
For a calcination process like the one carried out at the customer's facility, BHS adapted a continuous horizontal dryer for intense heat transfer and precise material conveyance. Special high-temperature sluices for input and output streams ensure efficient, high-temperature operation, while vapors are cleared of dust using hot gas filters. Since the dryer went into service, it has been operating at a throughput rate of more than one metric ton per hour.
Pyrolysis and gasification
Pyrolysis refers to the thermal cracking of materials in an oxygen-free environment. It is used in many industrial processes, with the aim of recovering and recycling gases or oils. As a thermochemical conversion process, gasification goes beyond pyrolysis. Two examples of this include the conversion of biomass into gases or ash and the conversion of plastics to a gaseous state. Another area of application for high-temperature processes is the pyrolysis of old tires, with the waste product then available for use as a raw material in the production of carbon black and oil.
BHS supplied equipment used, for example, to convert organic residues into recycled gases. The goal was to yield high quantities of specialty gases in the oxygen-free environment. One of the requirements included maintaining a constant, homogeneous product temperature. The horizontal dryer equipped with an electric heating jacket used in this process can handle temperatures as high as 600 °C. One clear advantage of this dynamic system is the ability to handle sticky, viscous material without any limitations in terms of product homogenization and heat transfer.
Extensive testing options for new applications
BHS-Sonthofen offers its customers an extensive range of testing options at its in-house test center. Examples of other potential applications include the thermal cleaning of metals and the production of cathode and anode material. The on-site plant is highly flexible. Depending on the relevant task at hand, BHS adjusts the system and selects additional modules for exhaust gas aftertreatment, for example.
Particularly in research and development, but also in many other areas in the chemical and process industry, the dynamic process of contact drying can therefore be an energy-efficient alternative to existing technologies going forward, ensuring higher quality and protecting both people and the environment.
Author
Jan Wankerl, Technical Sales Manager
Expert in various drying processes and high-temperature applications
BHS-Sonthofen GmbH, Sonthofen/Germany
www.bhs-sonthofen.com