Environmentally friendly and efficient
New heavyweight in the Komatsu hydraulic excavator portfolio
Komatsu has a reliable large hydraulic excavator in its portfolio that has been designed, developed and manufactured based on more than 100 years of Komatsu expertise in quarrying and mining. The new PC950LC-11 has been designed with productivity, durability and environmental friendliness in mind. The 98-tonne machine features a new powerful Komatsu engine, a high-volume bucket and all-new hydraulic and control systems that deliver lightning-fast cycle times, effortless combination movements and low fuel consumption.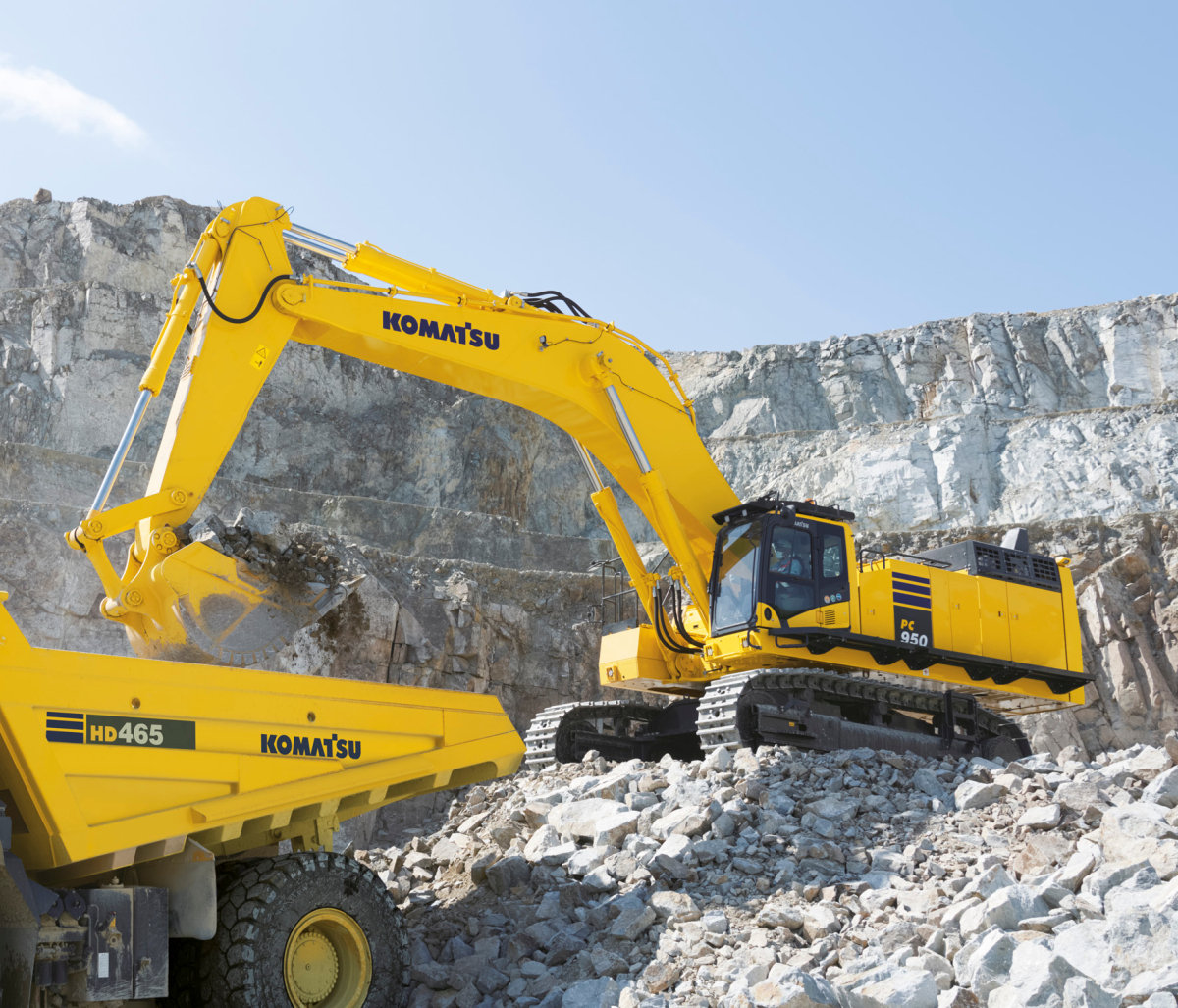 1 The Komatsu large hydraulic excavator PC950LC-11
© Komatsu
1 The Komatsu large hydraulic excavator PC950LC-11
© Komatsu
When the new "Power Plus" work mode is switched on, engine power and torque are increased, as is the output of the hydraulic pump. This enables extremely high productivity and offers convincing fuel efficiency. The slew motors, which are controlled independently of the work circuit, operate at the optimum flow rate, allowing brake energy to be recovered and thus minimising fuel consumption. To cope with this performance, the frame, boom, arm and undercarriage are extremely durable, so maximum uptime can be expected even in the most extreme applications. Various idling functions and the reversible cooling fan further increase comfort and minimise fuel consumption.
Safety is Komatsu's number one priority. That's why the PC950LC-11 is equipped with the 4-camera KomVision system as standard. In addition, the machine is equipped with wide maintenance walkways on both sides of the upper carriage and a central maintenance aisle. There are always three stopping points available when using the maintenance walkways and when entering and exiting the machine. The neutral position detection of the control levers eliminates the risk of unintentional movement and thus increases safety.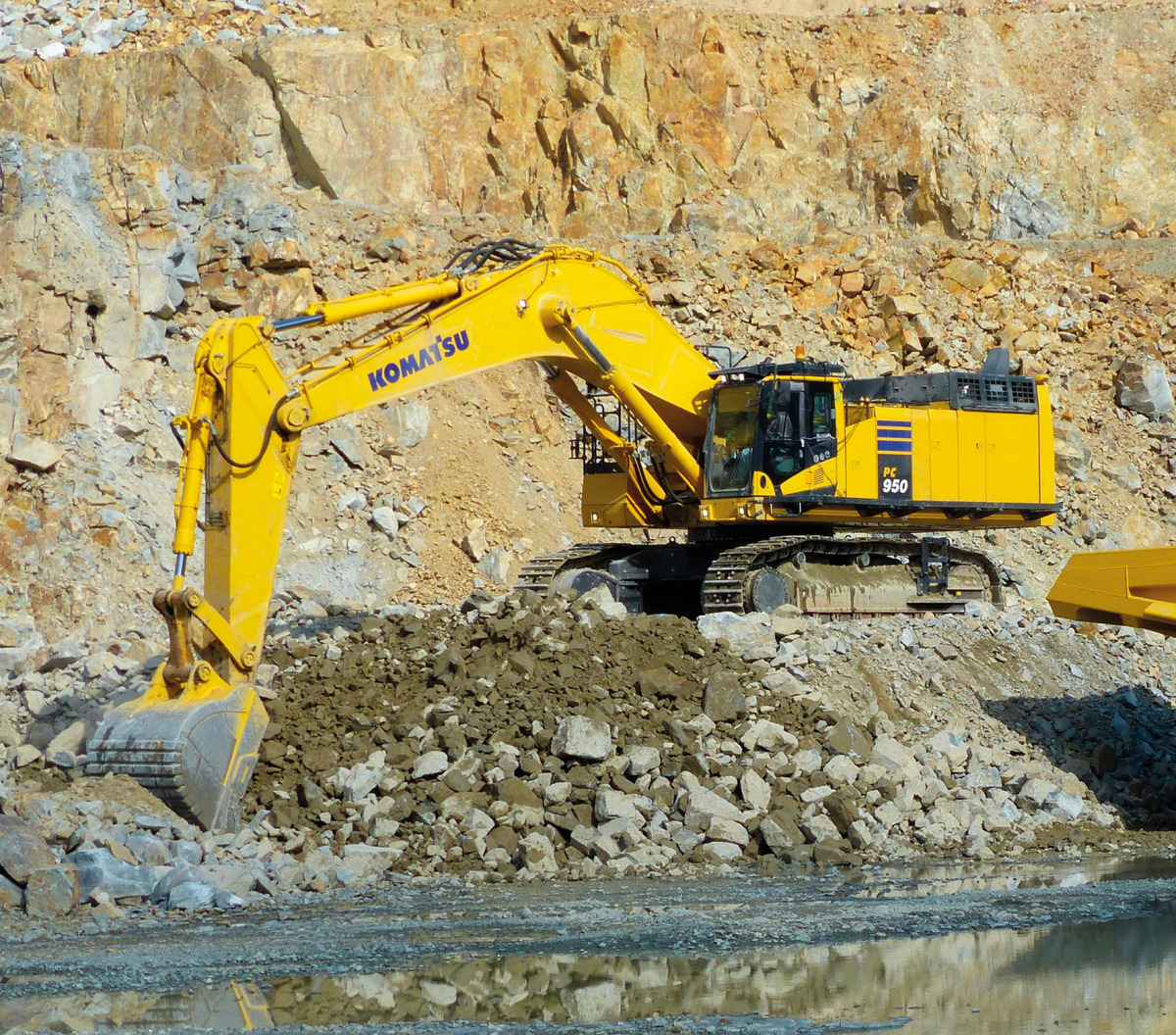 2 The PC950LC-11 is versatile in use
© Komatsu
2 The PC950LC-11 is versatile in use
© Komatsu
The Komatsu design team has the environmental requirements of its customers clearly in mind. This focus ensures extremely low CO2 emissions per tonne of material produced, 100 % compatibility with HVO fuel and an end-of-life recycling rate of over 99 %. In addition, the engine's dual EU Stage V and USA EPA Tier 4 certification ensures optimal geographic application flexibility and high resale value.
Together with the Komatsu Care Support package and Komtrax machine information system, the PC950LC-11 offers minimal maintenance costs with excellent profitability.
Some highlights of the PC950LC-11
EU Stage V and EPA Tier4 compliant engine: Wide range of applications, low TCO
405 kW Komatsu engine: Power when you need it
CO2 emissions per tonne of material produced: 32 % reduction (vs. PC800LC-8)
100 % compatibility with paraffinic fuels: HVO etc. Minimisation of CO2 emissions
Large bucket volume of 6.5 m3 (at 1.8 t/m3): exceptional productivity
Independent swing system: no compromises, smooth, easy-to-control combined operation
P+ Mode: Massive productivity up to +60 % productivity increase (vs. PC800LC-8)
Incredible fuel efficiency: +48 % higher fuel efficiency (Vs. PC800LC-8)