Eriez® Flotation Engineers awarded CEEC Medal for coarse particle flotation paper
16.11.2023
Eriez® President and CEO Lukas Guenthardt announced that Eric Wasmund, Vice President of Global Flotation Business, Jose Concha, Eriez HydroFloat® Product Manager, and Felipe Valdes, Eriez HydroFloat® Process Lead, are part of a group including staff from Anglo American who have been awarded the 2022 CEEC Medal for Operations by the Coalition for Minerals Efficiency (CEEC). This recognition is in acknowledgment of their work on a paper detailing the commissioning of a HydroFloat® in a copper concentrator.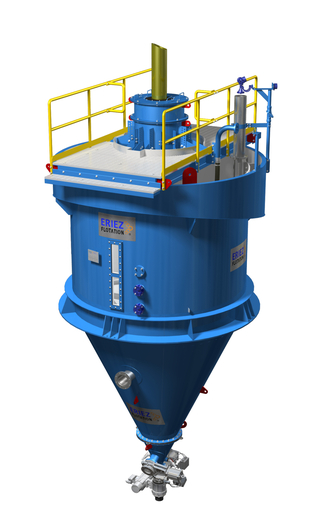 HydroFloat®
© Eriez The paper, titled "Commissioning a HydroFloat® in a Copper Concentrator Application," was collaboratively authored by Wasmund, Concha, Valdes, Karina Arburo, Jaime Zuniga, and Adrian McDonald. Their insightful research was published in the proceedings of the Copper 2022 Conference, held in Santiago in November 2022.
In their award-winning paper, the authors describe the achievement of effectively installing and operating a HydroFloat within a copper concentrator circuit, with a focus on gangue rejection capacity. Eriez HydroFloat technology stands out for its ability to separate coarse particles in a range that cannot be achieved with conventional flotation, allowing reductions in energy and net water consumption, as well as the production of coarser tails.
According to CEEC, the Medal for Operations specifically recognizes contributions to the enhancement of comminution performance, reduction of energy consumption, efficient water utilization, effective tailings management, and various other aspects of mineral processing operations. In a statement, CEEC further notes the Medals Committee's appreciation for the authors' adept utilization of coarse particle flotation technology and the successful integration of this process into Anglo American's operational framework.
Recognizing the significance, CEEC pointed out that coarse particle flotation stands as a strategy to curtail energy consumption within mineral-processing circuits. The HydroFloat technology has proven its efficacy through successful prior installations in the coarse flotation of industrial minerals and sulfide middlings, with a notable example being its pioneering deployment in a scavenger sulfide configuration at Newcrest's Cadia mine in NSW, Australia, in 2018. In light of this, CEEC extended its commendation to both Anglo American and Newcrest for their pioneering endeavors.
The announcement from CEEC explains that the HydroFloat paper presents a comprehensive overview of sulfide mineral processing technology, demonstrating Anglo American's dedication to FutureSmart Mining™ technology innovation. This commitment is underscored by efforts in sustainable process designs that enable substantial reductions in energy consumption and freshwater utilization per unit of copper produced within their operations. While this case study pertains to copper, Anglo American's commitment extends beyond; their insights are now being applied to diverse commodities. Moreover, the paper effectively highlights the advantageous outcomes stemming from close collaboration spanning corporate entities and nations, thereby fostering relationships between proprietors and suppliers.
In response to earning the CEEC Medal for Operations, Wasmund remarks, "This recognition from our industry peers stands as a testament to Eriez' unwavering dedication to innovation. While awards are not our primary focus, this acknowledgment further validates our mission to drive significant change in our sector to support positive environmental impact."
The CEEC Medal for Operations award ceremony has been occured at the 2023 SAG Conference in Vancouver/Canada, held from Sept. 24 to 28, and the MetPlant 2023 Conference in Adelaide/Australia, from Nov. 6 to 8.