News for the aggregates and recycling industries from Eriez at CONEXPO – CON/AGG
10.03.2023
Eriez® expands its suspended permanent magnet line in North America
Eriez® Separation and Recycling Product Manager Chris Ramsdell announces that the company is entering 2020 with new and improved standard offerings in its Suspended Permanent Magnet line. CP-20 and TP-25 Suspended Magnets, which have been successfully used in the recycling and aggregates industries in Europe for years, are now available in North America. These models replace the company's previous SP-6000 Magnets and provide a better price point, expedited delivery options and the same high performance.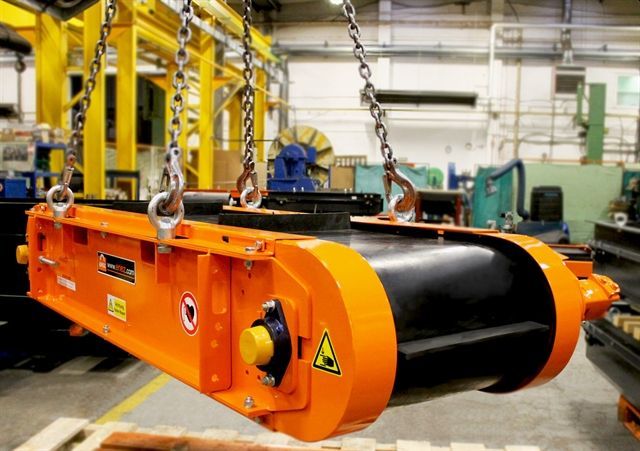 © Eriez
CP-20 Series Magnets utilize a single-pole permanent magnet circuit to provide a uniform field across the feed belt to optimize separation efficiency of damaging tramp iron. These reliable, low-cost suspended magnets have a maximum suspension height of 10 inches and are available in both manual and self-cleaning configurations.
TP-25 Series Magnets utilize a twin-pole permanent magnet circuit to provide maximum ferrous removal at higher suspension heights. The twin-pole magnetic circuit used by the TP Series Magnets allows for horizontal lift of longer ferrous objects, such as rebar or wire. This results in improved ferrous removal and longer life for the self-cleaning belt. These suspended magnets have a maximum suspension height of approx. 305 mm and are available in both manual and self-cleaning configurations.
Ramsdell says the self-cleaning versions of both the CP-20 and TP-25 Series Magnets are available with either a standard electric drive or a hydraulic drive. He explains, "The addition of in-stock hydraulic drive magnets will allow us to better serve the mobile crusher and mobile equipment markets."
The CP-20 and TP-25 Series Magnets are now part of Eriez' Quick Ship Program. Ramsdell explains, "With CP-20 and TP-25 Series Magnets in stock, we can provide faster delivery to satisfy customers' most urgent needs."
Eriez® offers nine models of HVF Feeders with capacities up to 2000 t/h
Eriez® HVF Mechanical Feeders are available in nine models and can control up to 2000 tons (1820 MT) of material per hour. These low-profile machines move high volumes of bulk material reliably and economically. Their compact design allows for more room around equipment, smaller tunnels under stockpiles and easier installation.
A variety of trough sizes and types are available to meet practically any heavy-duty application requirements. Trough widths range from 457 mm up to 2135 mm and lengths from 914 mm up to 3048 mm.
The Eriez HVF Mechanical Feeder is a spring coupled two-mass vibrating system with motor-driven eccentric shaft. The hand-wheel adjustable variable-speed sheaves help to achieve an accurate control of flow rate, which can be up to approx.18.3 m per minute. Feeders are usually suspended with a downslope of up to 10 degrees. At this downslope, the HVF Mechanical Feeders can attain velocities up to 30 m per minute.
A standard three-phase motor mounted behind the base frame of the HVF Feeder is belt-connected to the factory set variable-pitch sheave, which drives the eccentric shaft at approximately 1100 RPM. The vibratory motion created by the shaft is amplified by the polyisoprene springs to which the tray is connected.
Central Hall, booth C20553