SaMoTer and asphaltica 2023 – construction sites of the future become reality
28.04.2023
SaMoTer is back with its 31st edition hallmarked by innovation. The triennial international construction machinery exhibition will take place 3 to 7 May 2023 at Veronafiere: the five-day event with 536 sector companies in the forefront (115 international from 23 countries). Visitors will be able to tour 6 halls for a total show area of more than 50 000 m², joined by 3 outdoor areas for displays and dynamic demo areas.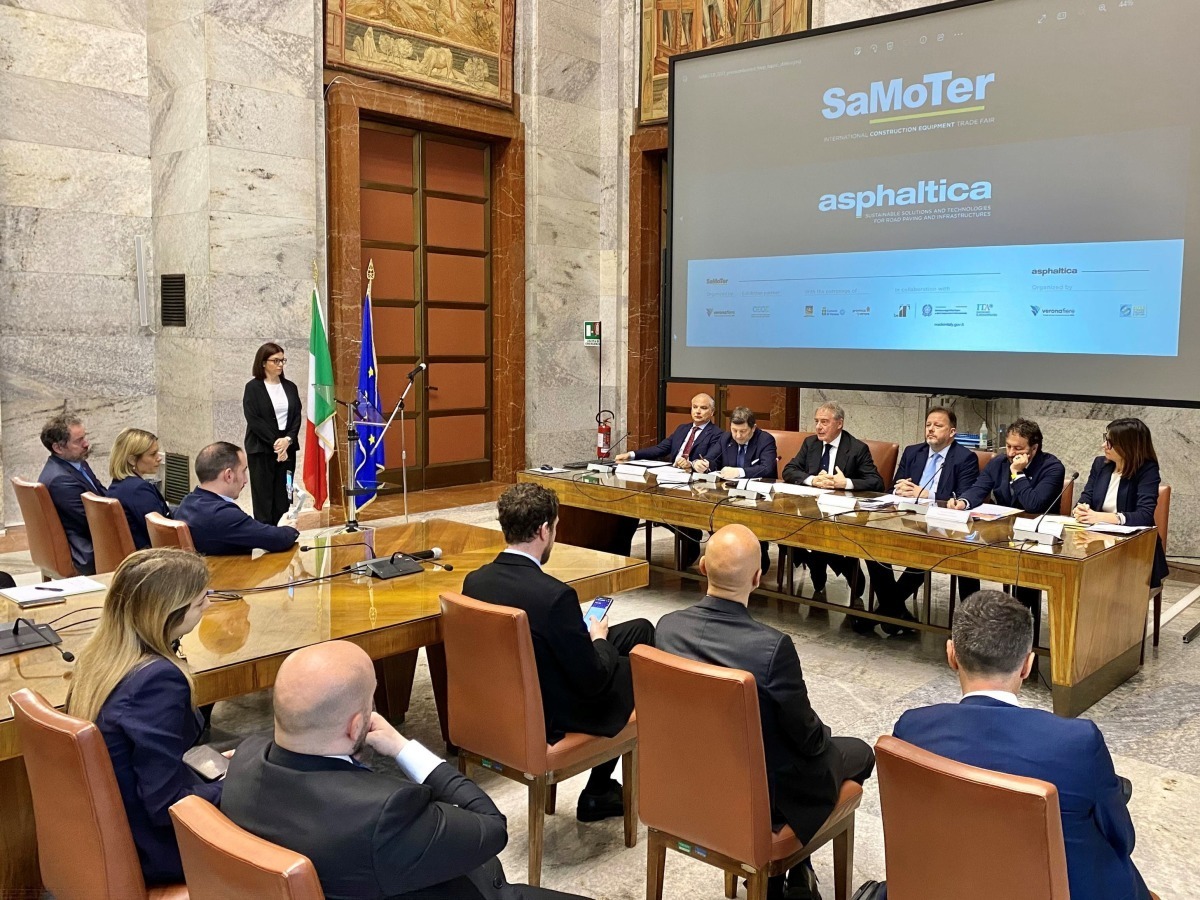 Press Conference
© Veronafiere

Press Conference

© Veronafiere

SaMoTer is held in conjunction with asphaltica, the show highlighting road paving, safety and road infrastructure technologies and solutions promoted together with SITEB – Strade Italiane e Bitumi. The two trade fairs were presented on 20th April in Rome, at the headquarters of the Ministry of Enterprise and Made in Italy. The presentation was attended by Adolfo Urso, Minister of Enterprise and Made in Italy, Federico Bricolo, President of Veronafiere, Michele Turrini, President of SITEB, Nicola d'Arpino, Vice President of Unacea, and Sara Quotti Tubi, Agritech area event manager at Veronafiere.

Adolfo Urso, Minister of Enterprise and Made in Italy said: "The construction machinery sector is an important asset for Italian manufacturing. This is why it should be strengthened, not the least through trade fair initiatives such as SaMoTer, one of the best-organised and most effective promotional methods for promoting our products abroad. Machines and automation have always been landmarks of excellence in Italian industry and one of our main export items. This is why the government is gearing up to implement a new and more significant 5.0 green and digital transition plan in the second half of the year. The aim is make our companies increasingly competitive, even in this sector. This programme will be implemented within the scope of PNR resources, provided that the EU grants us flexibility in this context sense for projects that can be carried out in the time frame through to 2026."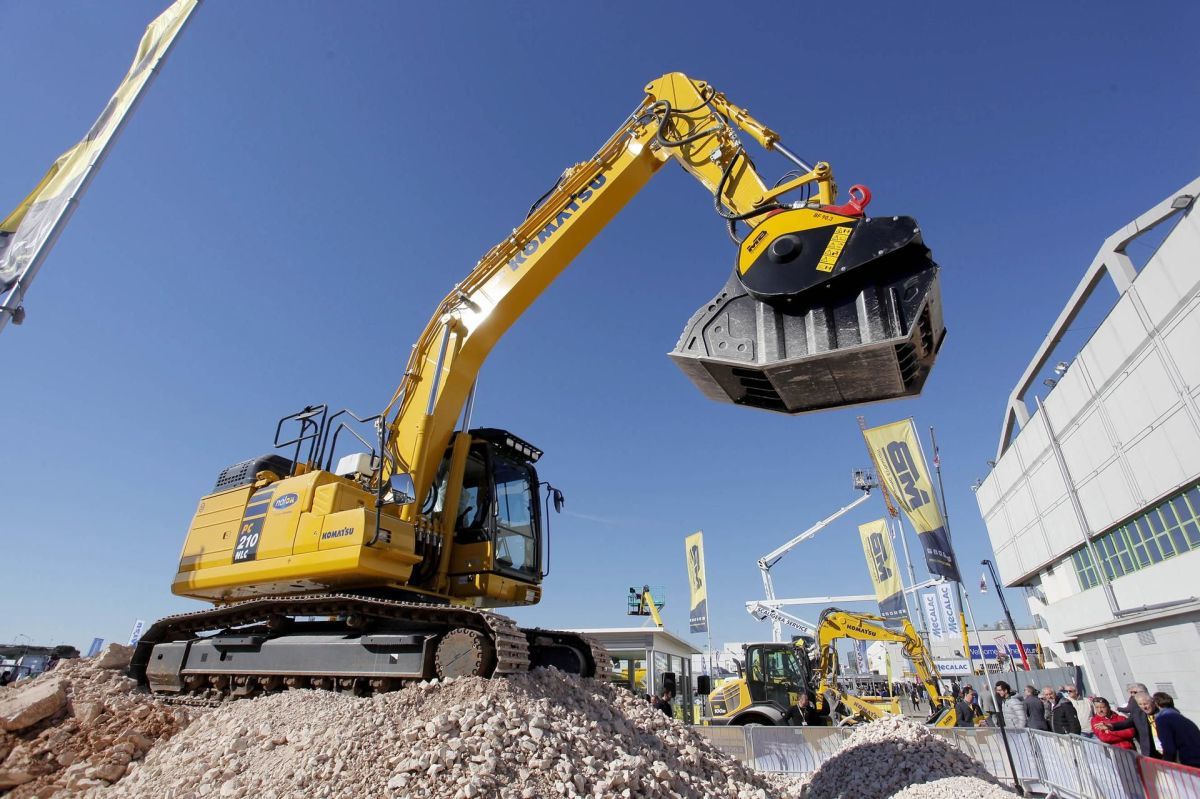 SaMoTer covers the construction machinery supply chain in its entirely whole
© Veronafiere

SaMoTer covers the construction machinery supply chain in its entirely whole

© Veronafiere

SaMoTer is the only event in Italy that covers the construction machinery supply chain in its entirely whole. It is also the main landmark event in Europe in 2023, with important attendance and returns among the leading international machinery builders in the world of earthmoving, concrete, road building, drilling, crushing, lifting, vehicles, components and services.

UNACEA-Italian Construction Machinery Union, partner of SaMoTer, estimates turnover for national production of construction machinery in 2022 at approximately 3.9 billion €, posting growth of 15 % over the previous year. Exports came to 3.1 billion €, posting an increase of 9.7 % compared to 2021. Sales of machinery on the Italian market (national and international production) also grew to a total of 29,613 units (+16 %).

SaMoTer confirms its status as a b2b platform of international calibre: there are 106 top international buyers attending this year, selected, invited and hosted thanks to investments by Veronafiere in collaboration with the ICE-Trade Agency. Thirty-two countries were targeted for incoming promotion: Albania, Angola, Algeria, Azerbaijan, Brazil, Cameroon, Colombia, Ivory Coast, Croatia, Denmark, Ecuador, Egypt, Ethiopia, Georgia, Ghana, Jordan, Kazakhstan, Kenya, Libya, Poland, Montenegro, Morocco, Mozambique, Macedonia of the North, Romania, Saudi Arabia, Serbia, Slovenia, Tunisia, Turkey, Turkmenistan, Uzbekistan and Venezuela.

The Veronafiere exhibition in 2023 highlights the key role that the construction machinery industry is destined to play in terms of environmental sustainability and the development of new economic models: vital progress that goes hand in hand with the 4.0 revolution. Against this background, SaMoTer 2023 is the preferential observatory for discovering the building site of the future. The two main innovations at this show precisely take this direction.

Hall 12 is home to the first SaMoTer Lab, an exhibition area that brings together companies presenting the most innovative solutions, starting with the winners of the 24th SaMoTer Innovation Award, alongside very high profile training and updating courses. The technologies on display include sensors, remote sensing devices, trouble-shooting tools, drones, hybrid and electric vehicles for work in urban contexts, smart machines and digital platforms for human-to-machine (H2M) and machine-to-machine (M2M) interaction, safety management software.

The appointment in Outdoor Area F with Cantiere Digitale-Digital Construction Site is an effective demonstration of the philosophy of Samoter Lab: an area of 3000 m² where fully automated machinery and technologies can be watched at work on construction of a road infrastructure; the initiative is a collaboration with "Quelli del movimento terra".

Inasmuch, the 31st SaMoTer is a vital showcase and the essential appointment for all professionals in the sector: a venue for meetings and discussion that promotes and supports business, providing visitors with information and food for thought to analyse the current context and forecasts for the near future more clearly.

The show is also eagerly awaited in view of to its fine calendar of conferences and workshops: thanks to collaboration with institutions, research centres, universities, the trade press, associations and companies, more than 80 appointments are scheduled where operators can keep up to date with news and developments even of international scope. Technological innovation is always in the foreground, especially with reference to the ecological and digital transition, together with safety, training, rental, productivity, efficiency and new solutions for construction sites and roads.