Sandvik's latest 50-tonne BEV truck combines best of two worlds
03.12.2021
The new Sandvik TH550B 50-tonne battery-electric truck combines the best of two worlds: Sandvik's half-century of experience designing and manufacturing equipment for the underground mining industry, and the innovative Artisan™ battery packs and electric drivelines. This combination of proven solutions and third-generation BEV technology is a game changer for any site in pursuit of a more sustainable and highly productive fleet.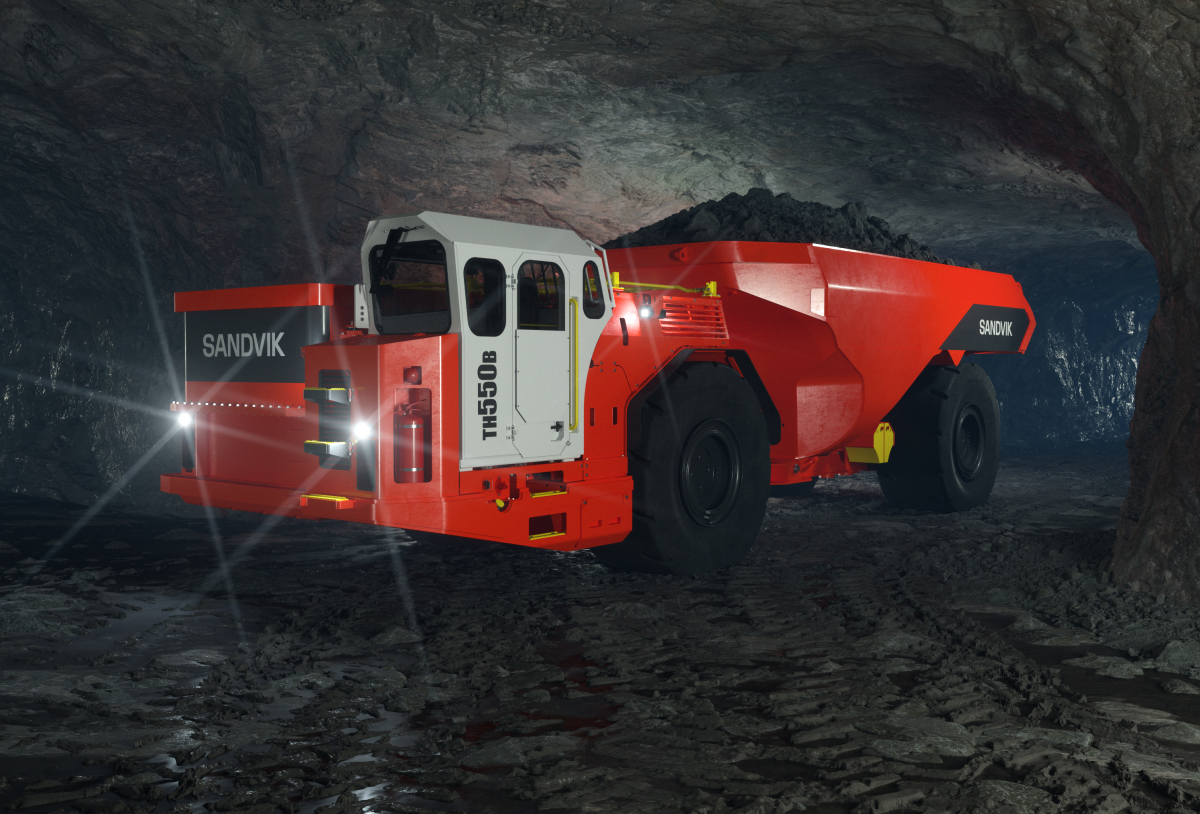 The new Sandvik TH550B 50-tonne battery-electric truck
© Sandvik

The new Sandvik TH550B 50-tonne battery-electric truck

© Sandvik

Rethink the machine, keep the same mine
Sandvik TH550B combines proven solutions and third-generation BEV technology. The truck has been designed to best utilize the innovative technology of its Artisan™ battery pack and electric driveline, enabling full leverage of the possibilities that the battery technology brings. Based on the philosophy of rethinking the equipment rather than the mine, the truck is simple to implement in any underground hard rock operation where a 50-tonne truck is required. Infrastructure needs are minimal, with no requirement for overhead cranes or other heavy handling equipment. All that is needed is a battery bay with an electric connection. As battery equipment power is not constrained by mine ventilation limitations, the most powerful electric motors available can be utilized. The Sandvik TH550B electric drivetrain delivers 540 kW of continuous power, and 6400 Nm of continuous torque output, allowing high acceleration and fast ramp speeds for shorter cycle times.
Fast and easy battery AutoSwap and AutoConnect
The patented self-swapping system of Sandvik TH550B, including the AutoSwap and AutoConnect functions, is designed for improved equipment availability and safety. Sandvik offers the fastest BEV pit stop on the market, taking only a few minutes. Sandvik TH550B disconnects and puts down the depleted battery, trams to pick up a new one, and automatically connects. During this quick and simple procedure, the truck operator controls the swapping without leaving the equipment cabin. While tramming downhill, the truck uses regenerative braking to recharge the battery. For safety and reliability, the truck utilizes cutting edge battery technology, based on a lithium-iron phosphate chemistry (LiFePO4 or LFP), a fit-for-purpose choice for underground mining.
Sandvik BEV loaders and trucks lining up
Sandvik TH550B truck, introduced at MINExpo INTERNATIONAL® 2021 in Las Vegas, builds on its predecessor, the Artisan Z50, now tailored to include common Sandvik systems and design solutions to seamlessly fit the truck into the Sandvik product range. In addition to Sandvik TH550B, Sandvik battery-electric loader and truck offerings includes the 18-tonne LH518B loader as well as 4-tonne A4 and 10-tonne A10 from the Artisan line. Sandvik is continuing to develop additional battery-electric loaders and trucks in other size classes, including a 65-tonne battery truck in the near future.