Virtual tour – 100 t/h C&D waste recycling plant
02.11.2023
CDE announced the next Engineering Insights webinar series – a 360 virtual site tour of The Ashcourt Group 100 t/h C&D waste recycling plant located in East Yorkshire/England.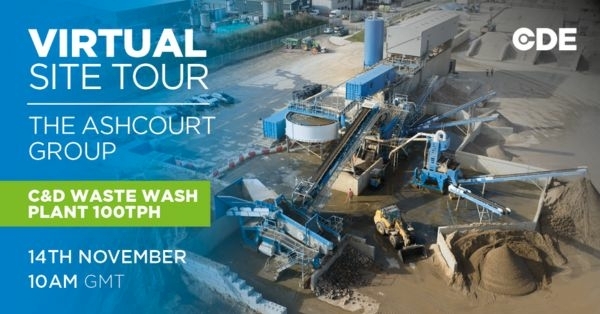 © CDE
The Ashcourt Group is a Hull & East Riding based family-run organisation and a leader in building materials supply in the Hull, East Riding and Northern Lincolnshire areas. The Ashcourt Group also has a range of contracting services including construction, demolition, civil engineering and highways. It is the biggest concrete manufacture in the area and the new CDE wash plant will be used to support its concrete & civils business.
This virtual tour will be presented by the Head of Business Development for UK & Ireland, William Melanophy and Business Development Manager for UK & Ireland, Mike Bibby, who will present the details of the 100 t/h plant designed for The Ashcourt Group and explain how it is delivering higher quality recycled sand & aggregates at its site in East Yorkshire. William and Mike will also be joined by David Kinloch, Director of Business Development for UK & Ireland, Australasia and Middle East & Africa.
The experts will go through each stage of the process, from the feed material and the washing process to the five outputs currently being produced (4-10 mm, 20-40 mm & 40-80 mm clean rinsed aggregates as well as two in-spec 0-2 mm soft & 0-4 mm coarse sands) and explain how CDE ensures high-quality in-spec products and guarantees equipment performance.
Webinar Topics
The virtual tour will include discussion around the following topic areas:
Technical features of the equipment in this custom waste recycling wash plant
A detailed explanation of each stage of the washing process
How CDE can ensure in-spec and higher quality recycled sand & aggregates
Final materials being produced and their applicability for end customers
Webinar details
Date: 14th November
Time: 10:00am (GMT)
Duration: 45 minutes
Presenters: David Kinloch, William Melanophy & Mike Bibby
Registration: The Ashcourt Group C&D Waste Recycling Virtual Site Tour | CDE