GIPO AG
GIPO AG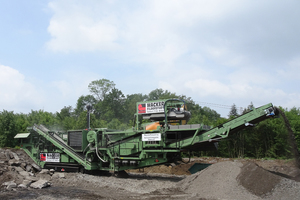 Source: Gipo AG
The track-mounted GIPOKOMBI RC 130 FDR DA is equipped with the powerful Type P 130 impact crusher and the large double-deck screener, both mounted on a single machine chassis
Source: Gipo AG
At this year's bauma, the traditional Swiss company GIPO will present two very special highlights from its extensive product range: the GIPOKOMBI RC 130 FDR DA, a mobile tracked impact crusher, which has been tried and tested in many situations, and the brand-new GIPOREC R 130 FDR GIGA DA, which is also a mobile tracked impact crusher, but with a separate screening unit. These may "only" be two machines, but they illustrate very clearly how Gipo defines the standards it sets for its own machines. Gipo plants must be exceedingly robust, powerful, reliable, innovative and flexible in order to satisfy Gipo's own quality standards and, in particular, its customers' demands. The company's history, which began as a one-man business in 1973 and has, since then, developed into a company with global reach, makes clear that it has reached its goal. And yet: Gipo is no mass producer. Each plant is individually produced and tailor-made precisely to the customer's requirements.
Proven and new: both belong together
On the track-mounted GIPOKOMBI RC 130 FDR DA, which has been tried and tested in numerous, even toughest environments, the extremely powerful P 130 impact crusher and the large 2-deck screen are mounted together on a single machine chassis. Thus, the oversized grain can either be discharged laterally or returned to the feed channel. The conveyor belt for the recirculation of the oversized grain is mounted on a stable swivel bracket, which is hydraulically pivotable in order to be used as a stockpile conveyor or for the backfilling of dumps.
Powered by a Caterpillar C15 Acert diesel engine level 5 with particle filter system and 433 kW or 580 hp, it has a feed capacity of up to 500 tonnes per hour, depending on the feed material. There is an integrated air separation system for both oversized and undersized grain, which, in combination with the overbelt magnetic separator, is a further decisive improvement, in particular for the recycling of building materials.
The GIPOREC R 130 FDR GIGA DA, which is being presented for the first time, is also a track-mounted plant equipped with a P 130 impact mill. It can be extended very quickly, at any time, by attaching a 1- to 3-deck screening unit. With this combination, the crushed material can be screened out and a qualified final grain size can be produced. Transport of the impact crushing plant is possible with or without the screening unit. It is precisely this equipment option that makes this plant so flexible. The plant is powered by a strong Scania diesel engine tier 4 final DC16 384A. Here, the feed capacity also amounts to around 500 tons per hour.
Strong, reliable and economical
Apart from the P 130 impact mill with a 1,270 x 1,100 mm inlet, both plants are equipped with the new and innovative direct crusher drive with the flange-mounted Revox drive. Not only does this ensure low fuel consumption, but also a highly cost-efficient use. Further key features that set these two plants apart are the impact mill discharge with a 1,600 mm wide discharge channel, the optimum material flow resulting from it, the new hydraulic solution powering the auxiliary equipment, like channels, screens and conveyor belts, the iron output in longitudinal direction, and finally, the integrated air separation system.