First floating grab dredger from ROHR Bagger in operation in the Russian Federation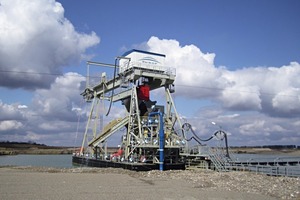 1 Schwimmgreifer vom Typ RS 12,0/450 Bf mit Katamaran-Schwimmbandanlage # RS 12.0/450 Bf floating grab with catamaran-type floating belt conveyor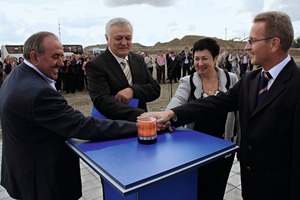 2 Feierliche In-Betriebsetzung durch den russischen Generaldirektor, Vertreter der regionalen Verwaltung und Hr. Peter Prag, Geschäftsführer der Rohr Bagger GmbH # Ceremonial commissioning by the Russian General Director, representatives of the regional administration and Mr Peter Prag, Managing Director at Rohr Bagger GmbH
The RS 12,0/450 Bf dredger (Fig. 1) with a ROHR motor hydraulic grab with 12 m³ capacity went into operation back in July last year; the grand inauguration of the floating grab took place on 30.09.2011, attracting the attention of the Russian press and in the presence of local politicians (Fig. 2).
The extensive design and preparation work for the realization of the project was done in very close collaboration with the customer. From manufacturing in Germany and the Russian Federation through transport to customs clearance, intensive consultation had been necessary, explains Peter Prag, Managing Director at ROHR Bagger GmbH. This had, however, led to particularly close ties between our customer and ROHR Bagger. While the weather in Germany had already turned very mild, assembly began in Russia in February in snowy and icy conditions, a challenge for the German and Russian fitters. The customer had agreed to second his own fitters to assist with the assembly. The language handicap did not make it very easy for the fitters to become attuned to each other, but thanks to ROHR Bagger's Russian representative, who speaks fluent German, this handicap was soon overcome too.
The dredger was assembled in just three months. It reaches a maximum dredging depth of 100 m and extracts 24 t sand and gravel in one lift. The hopper holds 2.5 grab fillings. This guarantees continuous operation of the downstream equipment. The dewatering screen measuring 7.5 x 2.8 m ensures separation and dewatering of the material; the downstream 8-inch fine sand recovery ensures that no material is lost. Properly processed, the sand and gravel can then be fed to the conveyor. The catamaran floating belts from ROHR Bagger transport the material over 200 m to the shore, where it is processed in a modern concrete plant to pavers of every colour.
News of the hitch-free realization of the order has already spread in professional circles and so this example has already been copied. A second dredger for Russia, this time a 6 m³ boom dredge (Fig. 3), is currently in the realization stage. The customs procedures are almost complete. In March the ROHR fitters arrived and are now fitting the pontoon on the Siberian ice, as there are not enough cranes with sufficient lifting force available. All other components are already on site and can be installed bit by bit.