BEUMER GROUP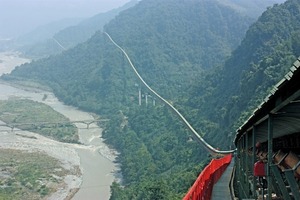 Belt conveying systems enable rapid and efficient transport of bulk material from the quarry to the destination also through rough terrain # Mit Gurtförderanlagen lassen sich Schüttgüter schnell und effizient vom Abbauort auch über unwegsames Gelände zum Zielort transportieren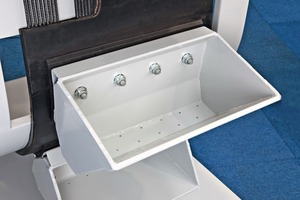 The Heavy Duty technology from BEUMER: The new bucket shape allows for smoother running and therefore less noise generation # Die Heavy-Duty-Technik von BEUMER: Die neue Becherform sorgt für einen ruhigeren Lauf und damit für eine geringere Geräuschentwicklung

At bauma 2013 BEUMER Group will display its comprehensive competence in conveying, loading, palletising and packaging technology. Visitors will also learn about BEUMER Customer Support, which ensures the systems' high levels of availability. For example, the BEUMER portfolio includes curved belt conveyors. Both troughed belt conveyors and pipe conveyors are used to transport various bulk materials over large distances and often across impassable terrain. Using BEUMER belt apron conveyors, hot materials, such as cement clinker, can be safely and efficiently transported. The conveying system can withstand high temperatures. It builds on proven belt technology, like the technology used in bucket elevators. BEUMER will also present the Heavy Duty bucket elevators. These machines transport chunky, highly abrasive bulk material with piece sizes up to 120 millimetres. At bauma, BEUMER will display models of a belt bucket elevator and a pipe conveyor.
In order to load bulk materials quickly and without dust, BEUMER offers bulk loading heads. They are designed according to the double-wall system. The material inlet and the dedusting unit are separated from each other. In order to balance out any minor positional deviations of the vehicle, the bulk loading head can be moved laterally during placement. Stationary bulk loading heads are often no longer sufficient for large loading capacities as, for example, in the cement industry. It should be possible to move the bulk loading head to each filler neck of the vehicle. For this purpose, ­BEUMER has developed mobile loaders that adapt to the length of the vehicles. If open vehicles are to be loaded without dust, various telescoping loading systems are available.
The BEUMER portfolio offers the loading and palletising system autopac 3000 for fully automatic loading of bagged bulk materials on to lorries, wagons and ships. The machine simultaneously loads and palletises bagged goods directly on lorries without using pallets. Loading bags with this ­BEUMER system is particularly efficient, because significant manpower would otherwise be required. This is especially important in emerging market nations, where the transshipment of bagged bulk goods is increasing and labour costs are climbing.
From the palletising technology product range, BEUMER will display the paletpac range. This layer palletiser palletises bagged bulk materials. The BEUMER paletpac 5000 impresses with a very high capacity at low processing speeds, due to bag flow distribution. For this reason, this version is primarily used for palletising building materials such as cement or mortar. The geometric precision and the stability of the palletised stacks allow for easy storage and ensure reliable integration in downstream packaging systems. With it, BEUMER will present the versatile high-capacity packaging system, the BEUMER stretch hood. It packs palletised goods with minimal film consumption and secures the load on the pallet with a perfectly fitting film hood. This protects the products from environmental stresses, such as moisture, dirt or ultraviolet radiation, ensuring clean and dry outdoor storage.
To ensure high levels of system availability for the customer, BEUMER Group has competent experts on duty world-wide with their Customer Support. These experts handle proper maintenance and repair, deliver spare parts and conduct customer training.
Hall B2; Stand 305