Continuous particle size analysis in real time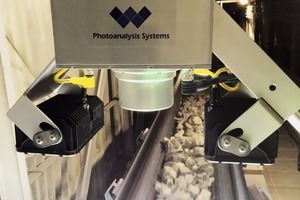 Quelle/Source: Syscom BV Industrial Equipment
1 Wip Ware Solo makes use of the photogrammetry to determine particles sizes and shapes as well as volumetric data in real time
Quelle/Source: Syscom BV Industrial Equipment
With the system WipWare Solo, Syscom presents a completely automated analysis instrument for measuring the size distribution of unconsolidated material on conveyor belts in real time without disrupting production (Fig. 1). This technology is autonomous, portable and performs well in harsh industrial environments for process automation, historical reference or direct control. The functional principle is based on an integrated camera (photoanalysis), lighting, laser and computer. The pictures taken are analyzed by means of edge detection. Since WipWare Solo detects relative fluctuations of the particle size as well as contaminations, the quality control process is suitable for the optimization of the entire plant productivity. This again results in more safety during the plant operation as well as in reduced energy and maintenance costs.
Results can be accessed remotely through desktop computer or at your fingertips with an iOS device. The daily data interchange is also possible by automatically sent e-mail reports with PDF and SCV files (Fig. 2). Solo connectivity is via Ethernet or Fiber Optic cable. Optional connections through USB WiFi or GSM.The direct access is ensured via modbus / tcp. Process values enable an easy tracing of the key performance indicators (kpi).
The system is suitable for the online quality control of particulate material or bulk material on conveyor belts, but also for the automation of crushers, SAG mills or kilns. The entire processing can be automated to achieve an optimum by means of connecting it with the data management of plants. The (remote) control and visual monitoring of the system are carried out via PC or iPad and, additionally, offer a very comfortable and easy operation.