Crawler material handler powerfully shovels sand
Quelle/Source: Sennebogen
1 Mit einem SENNEBOGEN 850 E Raupen-Umschlagbagger werden bei Kuypers im niederländischen Kessel die ankommenden Schiffe entleert • With the SENNEBOGEN 850 E crawler material handler incoming ships are unloaded at Kuypers from Kessel in the Netherlands
Quelle/Source: Sennebogen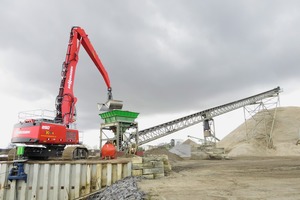 Quelle/Source: Sennebogen
2 Mit einer Reichweite von 19 m schaufelt Fahrer Ruud Thijssen mit dem 2,75 m³ Zweischalengreifer den Sand in den direkt am Kai montierten Schütttrichter • With a range of 19 m, Ruud Thijssen, the driver, shovels sand directly into hopper, which is installed directly at the quay, using the 2.75 m³ double shell grab
Quelle/Source: Sennebogen
For over 90 years, Kuypers, the family-owned company from Kessel in the Netherlands, specializes in the transport and handling of materials. Since the end of 2016 sand, in particular, is delivered by ship via the Maas river and unloaded with the new SENNEBOGEN 850 crawler excavator directly from the quay.
The work area of Ruud Thijssen, the driver, is at almost 6 m. He overlooks the Maas river and can intuitively operate his red SENNEBOGEN material handler. Finally, the working weight of almost 80 t and the 19 m long equipment are moved safely and precisely and the SENNEBOGEN 850 with its broad gauge undercarriage is still directly at the quay wall. On a daily basis one grab load after the other lands safely in the hopper, from which the sand is conveyed straight away. Up to 2.75 m³ of sand per cycle is removed from the incoming ships and is later distributed by lorry to construction sites in the area.
With the new SENNEBOGEN 850 from the E series, not only is the most modern technology used for unloading, Kuypers Kessel Beheer B.V. also saves money with every lift thanks to Green Hybrid energy recovery and efficient Green Efficiency engine technology according to a 4-tier standard. With the Green Hybrid energy recovery system, which is used as standard in the large SENNEBOGEN Green Line material handlers, a saving of up to 30 % can easily be made with regards to operating costs. Fitted with a 224 kW diesel engine and ­approximately 65 kW achieved by the system, the machine has an overall ­system output close to 290 kW and thus huge savings are made. The operating principle of the recovery is easy and safe - similar to a spring which compresses and decompresses. When lowering the main boom, a third hydraulic cylinder recovers the kinetic energy. Following temporary storage in compressed gas storage tanks in the rear, this energy is available once more for the next lift.
Due to the exposed location directly at the quay, decisive ­criteria for those who are responsible at Kuypers were above all a comfortable reach depth of up to 7 m to be able to unload incoming ships across the entire ship's width and also a reach height of approximately 20 m for the hopper feed. Thanks to the broad gauge undercarriage the machine is not only stable but can also be operated at a variable rate along the quay. An additional outrigger is not required. Last but not least, the 850 E comes with a 2.70 m elevating Maxcab comfort cab as standard. From this position, Ruud Thijssen, the driver, also has the best view of his work area.