Crusher distributor plates boost Indian quarry production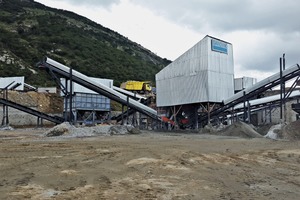 Quelle/Source: Sandvik Construction
1 A Sandvik Construction UH311 Cone Crusher and a UV312 Vertical Shaft Impact crusher (VSI) are in use at Panchami Stone granite quarry
Quelle/Source: Sandvik Construction
The Panchami Stone granite quarry is located 60 km from Bangalore, in the south of India. The company originally acquired a Sandvik Construction UH311 Cone Crusher and a UV312 Vertical Shaft Impact crusher (VSI) in 2014 and 2015 respectively. The latter is fitted with Sandvik's state of the art CV218 VSI. The Sandvik wheeled semi-mobile cone and VSI crusher configuration has proved to be the ideal solution for manufacturing sand. Panchami Stone has also benefitted from improved production, reduced emissions and a lower cost per ton operation with the CV218 providing many real benefits over other autogenous VSI crushers.
The 0-36 mm granite feed material at the Panchami Stone quarry is fed from the cone into the VSI, from which the manufactured sand product is produced, at a rate of 40 000 metric tons per month. Due to its shape the sand product has proved to be superior to naturally occurring sand, thereby providing the local construction industry with a highly valued commodity. The problem for Panchami Stone was that with a work index of 18-20, and an abrasion index of 0.5-0.6, as well as a bulk density of 1.6 m3 ton, meant that the distributor plates on the VSI had to be replaced at regular intervals. This was not only affecting production, but also proving to be very costly in both time and money.
The distributor plates Panchami Stone was using for the 85 HP rotor of the VSI had to be replaced after every 18 000 tons. This meant that 2-3 plates had to be replaced each month. Panchami Stone raised its problem with the Sandvik Construction team in India. They suggested to use one of Sandvik Construction's latest developments – the HX900 distributor plates.
The plates possess very long wear life. This is due to a patented design, which consists of three different wear materials, and results in wear life being about five times longer than with conventional white iron distributor plates. Longer wear life means a minimum of maintenance stops, ­saving time on changing distributor plates.
A wear indicator clearly shows when it is time to change plates. The new HX900 distributor plates can easily be locked onto an adapter plate – as the distributor plate is split into three parts, weighing only 5 kg each. There is no need to lift off the crusher's upper section. No crane is needed and and no time is wasted. This makes handling easier and speeds up installation; a more user-friendly design resulting in safer service routines.
Panchami Stone was skeptical at first that the HX900 plates would be the solution to its problem. In fact following the adoption of the HX900, the distributor plates now only have to be replaced after 80 000 metric tons of production; a staggering improvement of up to 500 %, with an operational cost saving of 50 %.