Flexible in recycling with the MOBICAT MC 100 R EVO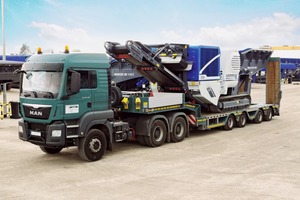 Quelle/Source: Kleemann GmbH
1 Loading of a MOBICAT MC 100 R EVO at Kleemann GmbH in Göppingen
Quelle/Source: Kleemann GmbH
To arrive at operating sites of recycling projects quickly, Freimuth Abbruch und Recycling GmbH opted to buy a MOBICAT MC 100 R EVO from Kleemann. This compact and easy-to-transport jaw crusher is now proving its flexibility and productivity in the demolition of a former brewery in Berlin-Friedrichshain.
Freimuth Abbruch & Recycling GmbH was founded in 1965 and is one of the three biggest demolition and earthworks contractors in Germany. In its fleet of machines, the company already has four Kleemann impact crushers and has gathered good experience with these machines in the past. In search for a mobile jaw crusher for flexible use, the company quickly chose the MOBICAT MC 100 R EVO (Fig. 1). This machine was able to convince the company with short set-up times that enable fast set-up and dismantling and, as a result, fast moving of the crusher.
Moreover, the compact dimensions of the crusher are crucial for its transport. For Max Becker, responsible for resource planning and construction machine hire at Freimuth, it was important that the crusher is quickly set up for operation without it being necessary to obtain a lot of permits. "With our permanent transport permit for low-loaders, it is absolutely no problem to transport the MC 100 R EVO to a working site at short notice. As a result, we can react fast and flexibly." In this way, we can crush directly on site and avoid dumping fees.
The MC 100 R EVO is currently in action on an extensive site in Berlin-Friedrichshain (Fig. 2). There, a former brewery has been demolished and the brick and concrete rubble is being processed. Mario Anton operates the crusher on site "On the uneven ground, the tracked crusher is proving very efficient. It can be simply moved without any transport being necessary."
In 12 weeks, a total of 20 000 m³ material has been crushed. The finished construction material with a size of 0-56 mm will be subsequently filled into the excavation pit and compacted with the help of a roller. Despite the inhomogeneous and therefore problematic feed material, the jaw crusher achieves a realistic hourly rate of 80-100 t. The high throughput rate of the comparatively small crusher confirms Freimuth GmbH's decision in favour of the MC 100 R EVO.
The family company is also convinced by the service. Since commissioning, which was supported by a Kleemann service operative, the machine has operated without any faults and replacement of wear parts. From the cooperation so far, Max Becker also knows that the Hamburg branch of the Wirtgen Group is a reliable partner and quickly on site in the event of any problems.