HAVER & BOECKER Machinery Division
HAVER & BOECKER Machinery Division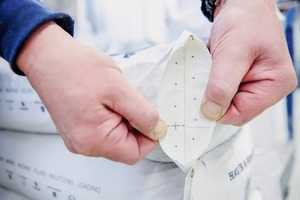 Quelle/Source: HAVER & BOECKER
Die ultraschallverschweißte, sichere Verpackung schützt die Umwelt vor einer möglichen Verunreinigung während des Befüllens, des Transports und der Lagerung und erhöht den Standard von Gesundheit und Sicherheit für Mitarbeiter im Werk, während der gesamten Logistikkette und für die Endkunden • The ultrasonically sealed, secure packaging protects the environment from possible contamination during filling, transport and storage and thus increases the standard of health and safety for employees at the plant, along the logistics chain and for end-customers
Quelle/Source: HAVER & BOECKER
T‌he HAVER & BOECKER Machinery Division will be exhibiting at this year's bauma under the motto "Perfect Flow for our blue planet". Here the focus is on sustainability and conserving resources. The packaging specialist from Oelde, Germany, is presenting itself along with the HAVER & BOECKER Wire Weaving Division and the mineral processing experts from HAVER NIAGARA.
The Wire Weaving Division will be presenting new and proven products from its range for particle analysis, screening and filtration. Among the innovations for the laboratory sector are also the HAVER CSA evaluation software with sieve recognition function and other accessories.
The willingness to sustainably pioneer new methods and use resources responsibly and sparingly will decide what the future holds for our blue planet. HAVER & BOECKER is intensively focussed on the question of what role the packaging of bulk goods will play in this context. In addition to environmental aspects, there are numerous other requirements. Today packaging no longer makes the filled, bulk material just a saleable end-product, but it is also increasingly becoming a central factor of success for production, logistics and, above all, becoming a competitive advantage in the sale and marketing of products. Health & safety in particular are now playing an important role.
The HAVER & BOECKER Machinery Division is increasing customer awareness of different requirements and is presenting possible packaging alternatives. At bauma the company will be displaying all common packaging types filled by different machine technologies, depending on the customer's requirements, and demonstrating the main advantages of each.
HAVER & BOECKER Machinery Division will focus on the advantages of the SEAL technology. At the beginning of this process a sleeve in the specially designed filling spout first inflates and seals the valve bag so that no loose material can escape. After a dust-free filling, the bag valve is ultrasonically welded shut. The compact and fully closed bag provides a clean work environment and improved health for all employees in the plant, along the logistics chain and for end-customers. Clean filling increases process reliability and reduces wear-and-tear and production downtime due to cleaning, maintenance and repair works.
In addition to cleanliness, safety plays an important role. The ultrasonically sealed, secure packaging protects the environment from possible contamination and promotes safety at all stages of the logistics process. It also protects the filled bulk material from product contamination, removal and product theft. Cleanliness leads to increased machine availability, reduced operating costs and keeps capacity utilization consistently high. When it comes to sales, the clean and attractive packaging means a significant advantage over the competition.
Stand B2.149