Conservation of resources
Innovation in the spraying system of B+W Gesellschaft für Innovative Produkte mbH
I‌n order to meet the growing demands of resource conservation – water is a precious commodity – and to comply with work and environmental protection regulations, B+W GmbH is now installing a water meter in all its water mist systems. This enables flow monitoring of the water to be sprayed. This has the advantage that leaks in the system are detected in the same way as clogged nozzles.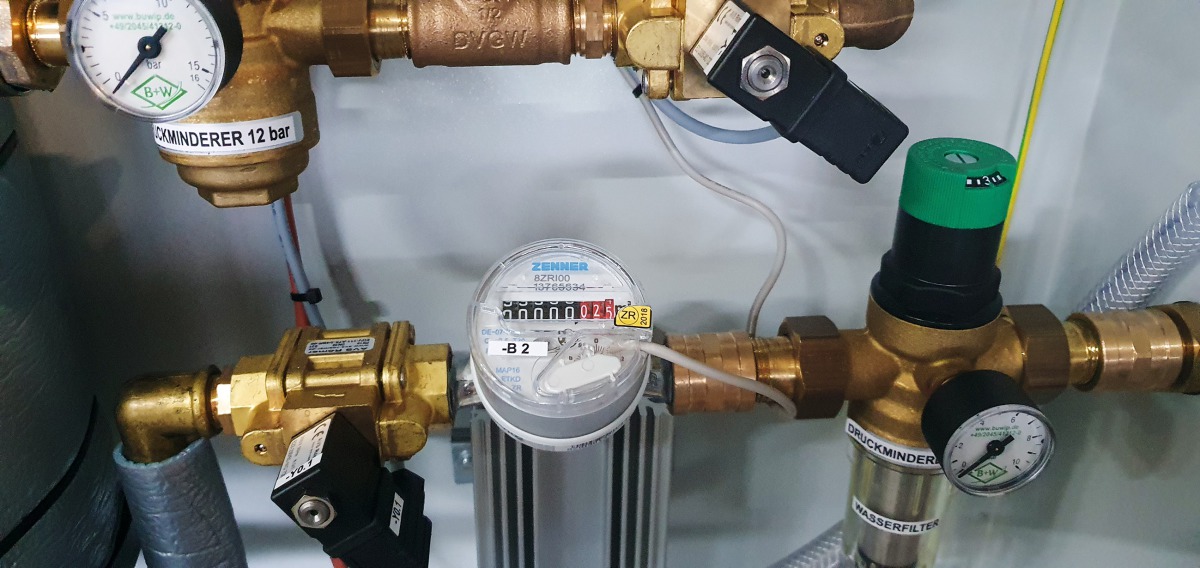 Installed water meter
© B+W Gesellschaft für Innovative Produkte mbH

Installed water meter

© B+W Gesellschaft für Innovative Produkte mbH

Leaks cost money unnecessarily due to leaking and unused water. The water meter monitors the consumption of the nozzles. If leaks occur, the increased water consumption is detected and the system goes into fault. Thus one does justice to the resources conservation.

However, not only the maximum flow is monitored, but also the minimum. This is important in order to detect clogged nozzles. If they do not produce a fine water mist, the dedusting performance is no longer guaranteed. This is where the water meter comes into play again. If the water flow rate falls below the minimum level, a signal is issued here as well. The low-maintenance B+W water nozzles can be cleaned easily and in a short time. The screwed-on filter can be easily loosened with a screwdriver and cleaned under running water. This means that the dust collector is quickly ready for use again and further contributes to occupational safety and environmental protection. Once again, B+W has proven that the innovative in the company name is justified – even with small innovations, B+W GmbH is always one step ahead.