Kleemann crushing plant MC 125 RR crushes 600 tons an hour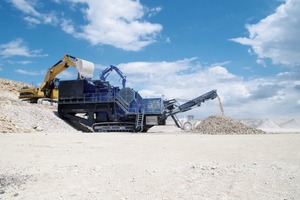 Quelle/Source: Kleemann
1 Die mobile Backenbrechanlage MOBICAT MC 125 RR bereitet bis zu 600 t Kalkstein pro Stunde auf • The mobile jaw crushing plant MOBICAT MC 125 RR processes up to 600 t of limestone an hour
Quelle/Source: Kleemann
Quelle/Source: Kleemann
2 Um den klebrigen Kalkstein effizient aufzubereiten, wurde die MC 125 RR mit einem speziellen Rollenrost ausgestattet • To ensure efficient processing of the adhesive limestone, the MC 125 RR was equipped with a special wobbler feeder
Quelle/Source: Kleemann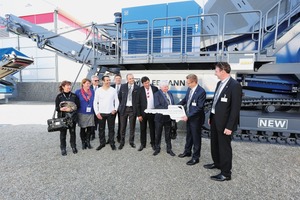 Quelle/Source: Kleemann
3 Auf der bauma 2016 übergab Stefan Wirtgen, Geschäftsführender Gesellschafter der Wirtgen Group, den Schlüssel für die MC 125 RR an Christian Laye, Generaldirektor von SMBP • At bauma 2016, Stefan Wirtgen, Managing Director of Wirtgen Group, handed over the key for the MC 125 RR to Christian Laye, General Director of SMBP
Quelle/Source: Kleemann
Natural stone processing often requires individual solutions to guarantee the ideal preparation of special stone. At bauma 2016, with its MOBICAT MC 125 RR Kleemann GmbH presented such a special plant. The mobile crusher is equipped with a wobbler feeder for thorough prescreening of adhesive feed material. Since summer 2016, the plant has been operating in an SMBP limestone quarry near Berchères-les-Pierres in France.
SMBP has already been preparing limestone for concrete production since 1978 in the region Centre-Val de Loire. A new project for processing limestone made the acquisition of a new crushing plant necessary. Regular relocation of the plant according to mining progress led to the decision for a mobile solution. SMBP has already used a special plant from Kleemann for limestone processing: the MOBICAT MC 162 PRR. In the last 15 years, the jaw crusher plant has processed 25 million t of material. "The MC 162 PRR is perfectly tailored to my application and I am very satisfied with its output", stated Christian Laye, General Director of SMBP. "This is why I contacted Kleemann to have another mobile special plant developed." The adhesive limestone makes particularly thorough prescreening necessary. The MC 125 RR was therefore equipped with a two-stage wobbler feeder.
Since July 2016, SMBP has been using the 160 ton MC 125 RR in the first crushing stage. The limestone is fed with a size of 0-900 mm to the elliptical rollers in the first stage of the wobbler feeder. At the same time, contamination and dust are removed from the stones. The material is levelled and then conveyed to the second stage of the wobbler feeder for further cleaning and better material distribution. The fines with a size of 0-80 mm fall through the rollers onto a conveyor belt and leave the process via the side discharge conveyor. Jaw crusher wear is thus reduced and a total output of 600 t/h is achieved. The oversize grain is crushed to 0-300 mm and then further processed by a stationary plant for concrete production.
The total area of the quarry in which the MC 125 RR is used is around 250 ha. They anticipate that 1.6 million t of limestone will be processed in this area in the years ahead. A stationary plant is to be used for processing as of 2018. A mobile crushing plant will therefore be used initially to develop the quarry until space has been created for a stationary plant. The MC 125 RR will then be used by SMBP in another quarry.