Metso
Metso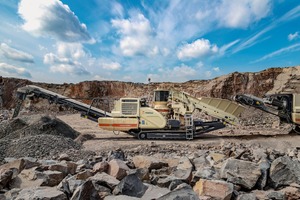 Quelle/Source: Metso
1 Auf der bauma 2019 wird Metso den erneuerten Lokotrack LT200HP vorstellen • At bauma 2019, Metso will display the renewed Lokotrack LT200HP
Quelle/Source: Metso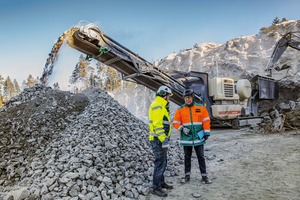 Quelle/Source: Metso
2 Die Ausstellung von Metso auf der Bauma 2019 wird eine breite Palette an Verschleiß- und Ersatzteilen präsentieren, sowie Dienstleistungen für die Zuschlagstoffeindustrie • Metso's exhibit at Bauma 2019 will highlight a broad range of wear and spare parts as well as services for the aggregates industry
Quelle/Source: Metso
M‌etso is introducing a number of new, state of the art solutions for the aggregate, construction, and mining industries at bauma 2019. The launches include technologies and services that enable improving productivity and driving down costs.
Along with the new crushing and screening solutions, Metso will unveil a groundbreaking innovation for off-highway trucks, enabling mines and quarries to haul more with less. This major product launch will expand Metso's offering into completely new territory and help customers reach a higher payload while lowering their operating costs.
Furthermore Metso will showcase a broad range of equipment, wear and spare parts as well as services designed to help make operations more efficient and assets work harder. The solutions to be featured will include:
The Metso Lokotrack® LT200HP mobile cone crushing plant designed for secondary and tertiary crushing operations such as producing aggregates for railway ballast, road construction, asphalt, and concrete fractions. The LT200HP complies with European Stage V emission regulations.
The Metso MXTM cone crusher with patented Multi-Action crushing technology designed to cut the operational costs of crushers and to provide more uptime compared to traditional cone crushers. Since its introduction in 2017, Metso has sold 50 MX crushers worldwide.
The Metso Lokotrack® UrbanTM range revolutionizes crushing in densely populated environments, such as city centers. It enables up to 60 % better noise protection and cuts dust emissions. This can make the environmental permit process easier and opens new opportunities for the crushing business.
The Metso slurry pump range is optimized for maximum uptime and reduced operating costs. The slurry pump maintenance slide base offers fast, safe and easy wear component change or pump inspection. Leaving the suction and discharge pipe undisturbed during inspection, the entire rotating assembly and motor configuration is slid back.
Financial services make investing in new equipment simple. Metso's leasing models allow customers to better match costs with production revenues.
As part of the Metso Life Cycle Services for Aggregates, Equipment Protection Services (EPS) brings added protection for the most valuable assets. This comprehensive plan includes extended warranties, scheduled inspections with Metso-certified technicians and Metso Metrics Services for remote monitoring and data visualization.
High-performance Poly-Cer wear lining enabling up to four times or more wear life compared to traditional steel lining. This long wear life in combination with quick and safe change-outs keeps downtime to a minimum and results in the lowest operating costs over time.
Metso's screening media are optimized for every application, ensuring long wear life and high operational open area.
Stand FS.1111/2