Metso Lokotrack – an efficient, compact and easily transported recycler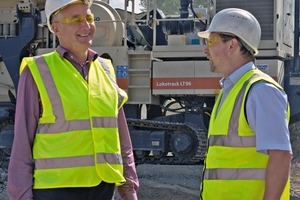 Quelle/Source: Metso
1 Ulrich Nikolaus (l), Managing Director of Strassen- und Tiefbaugesellschaft bmH Ernst Röwer and Thorsten Plew (r.), Sales Manager at Fischer-Jung GmbH, Metso's dealer in Germany
Quelle/Source: Metso
For Strassen- und Tiefbaugesellschaft mbH Ernst Röwer, a road construction and civil engineering company based in Mecklenburg-Western Pomerania, the compact size, low fuel consumption and easy transport are the most important features of their Metso Lokotrack® LT96™ jaw crusher. Ernst Röwer is currently recycling old industrial plants built during the GDR era. For this purpose, the Lokotrack LT96 is used at three different sites and moved between these around four times a year. "With its compact size and only 30 t weight, the new crusher can be transported without a special licence, if necessary short-term transport is possible," explains Ulrich Nikolaus, Managing Director and owner of the company.
Powerful recycler
Before Ernst Röwer invested in its own mobile crusher, the company had used hired crushers to process any orders. From this time, the company had gained good experience with Metso machines. In early 2016, the company made the decision to buy its own crusher. In the rental fleet of the German Metso dealer Fischer-Jung GmbH, a suitable Lokotrack LT96 with only few operating hours on the clock was sourced (Fig. 1). During the first four months of use, over 45 000 t reinforced concrete was crushed (Fig. 2). The liberated iron is removed by a strong overbelt magnet. The clean crushed recycled concrete 0/45 mm screened on a separate mobile screen is reused on numerous road construction sites in the region.
Environmentally friendly and cost-efficient
To avoid dust, Ernst Röwer users the high-pressure water spray of the LT96 at the crusher feed and over the main belt conveyor. At Penkun recycling yard, water from a nearby well is used. After over 1400 operating hours, the LT96 has clearly proven its economic and energy efficiency. Ernst Röwer is also satisfied with the durability of the Metso crusher tools, after all the first replacement of the crusher jaw is scheduled probably only after around 80 000 t crushed material.