New development in the processing of raw materials – Congress Program of the EMPRC 2018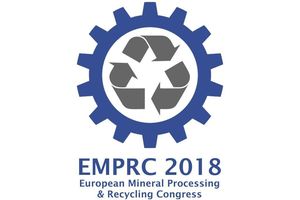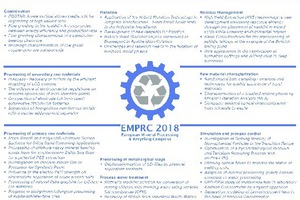 Quelle/Source: GDMB
The first European Mineral Processing and Recycling Congress – in short: EMPRC – which will take place from 25 – 26 June 2018, will turn into a platform for the intensive exchange of knowledge with the focus on the physical and physico-chemical processing of raw materials.  
"We succeeded in compiling a high-class conference program comprising six plenary lectures and more than 30 exciting specialist presentations given by national and international speakers. The positive feedback following the Call for Papers makes us look forward to the event with high expectations", emphasizes Dipl.-Ing. Jürgen Zuchowski, Managing Director of the GDMB and head of the organization committee.
Besides the plenary lectures held by
Dr. Matthias Buchert, Öko-Institut e.V., Germany: Recycling of lithium-ion batteries – environmental aspects
Dr. Christian Hagelüken, Umicore AG & Co. KG, Germany: Managing the metals demand for clean mobility - the contribution of responsible sourcing and circular business models
Prof. D.Sc. André Carlos Silva, Federal University of Goiás (UFG), Brazil: Current challenges and developments in the Brazilian mining industry
Dipl.-Ing. Fabian Stich, K+S Aktiengesellschaft, Germany: Survey of processing potash and salt at K+S plants
Prof. Peter Baláž, Slovak Academy of Sciences, Institute of Geotechnics (UGt), Slowakia: Mineral Processing via Mechanochemistry: From metallurgy to Nanotechnology and Medicine
Dr.-Ing. Olaf Enger, Bundesverband Mineralische Rohstoffe e.V., Germany: The German pit and quarry industry-situation and a view into the future
and the lecture program (see Figure), the "Come Together" in the "Fritzpatrick's Irish Pub" will give participants the opportunity to further deepen the technical-scientific dialogue in a comfortable atmosphere.
With the presentation of the Young Scientist's Paper Award 2018, the GDMB Gesellschaft der Metallurgen und Bergleute e. V. will pursue its goal to consequently support young talents. This prize, for the first time awarded on the occasion of the EMC European Metallurgical Conference and Lead-Zinc in 2015, addresses students and young scientists who hold excellent lectures, thus making an important contribution to the future development of the raw materials industry.
Each lecturer who has not yet exceeded the maximum age of 30 years, can apply for the young-talent award. The lecture along with a short portrait of the winner will be published in issue 5/2018 of the trade journal World of Mining – Surface & Underground. In addition, the award winner will get free admission to the second European Mineral Processing and Recycling Congress as well as a free two-year membership in the GDMB.
The scientific committee under the leadership of Prof. Dr.-Ing. Tobias Elwert, warmly invites plant manufacturers, recycling companies, processing companies as well as employees of research institutions and engineering firms to the congress in Essen and looks forward to numerous registrations under: