New mixing plant in Malaysia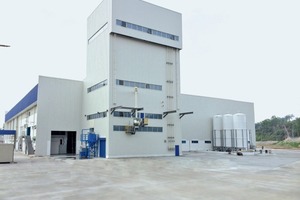 Quelle/Source: BT-Wolfgang Binder GmbH
1 Mitte Oktober 2014 startete die Produktion in der neuen Mischanlage von BT Wolfgang Binder in Malaysia • In mid-October 2014 production started in the new mixing plant from BT-Wolfgang Binder in Malaysia
Quelle/Source: BT-Wolfgang Binder GmbH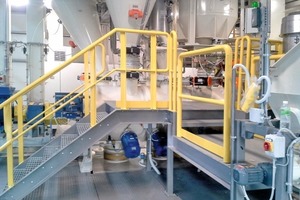 Quelle/Source: BT-Wolfgang Binder GmbH
2 Die Dosierung der Rohmaterialien erfolgt über Dosierschnecken • The dosing of the raw material is carried out via dosing screws
Quelle/Source: BT-Wolfgang Binder GmbH
Today, MAPEI is one of the global leaders in the manufacture of adhesives, seals and chemical products for the building industry. In November 2013, the company awarded the contract for the construction of a new mixing plant for dry building materials with a contract value of approx. 2 million € to the Austrian general contractor BT-Wolfgang Binder GmbH. The overall planning, construction, manufacturing and delivery of machines, silos and steelwork, including the façade was carried out by BT-Wolfgang Binder. The silos and the steelwork as well as chutes and containers were manufactured in Malaysia according to the statics and the production drawing of the general contractor.
The machines seaworthy packed in containers were forwarded to Malaysia by Koper (Slovenia). The assembly was carried out by service engineers and a supervisor from BT-Wolfgang Binder, supported by Malaysian personnel. The concrete foundation, the electrical equipment and the control were supplied by the customer.
In mid-October 2014, the plant was successfully handed over and production in Nilai – in the center of Malaysia – was started (Fig. 1). Due to the good cooperation with the customer in Malaysia and the engineering department of the MAPEI company in Milan under the direction of Dr. Guido Trussardi, the project manager Stefano Barsotti and the project department of BT-Wolfgang Binder, the plant could be put into operation and handed over in due time, despite great distances. With the hand-over to the customer, MAPEI has ordered another mixing plant from BT-Wolfgang Binder for dry building materials for Australia.
In the new plant, about 35 t of adhesive compound and filler for the construction material industry can be produced per hour at full capacity. The raw materials supplied, such as cement, sands and binding agents are stored in four key component silos with a capacity of 60 m³ each as well as in six key component silos with a capacity of 12 m³ each. Dosing takes place via dosing screws in tank scales, the dosing of the additives occurs in small-component scales (Fig. 2). The plant comprises six additive containers with a capacity of 2 m³ each as well as one fiber container (Fig. 3). From the scales, the material reaches the batch mixer with a net capacity of about 2400 l. From the batch mixer, the material is either supplied to the 4-nozzle packaging machine for valve paper sacks or to the truck loading with a loading capacity of 80 m³/h via an intermediate silo.