Dust binding not only on construction sites
New occupational exposure limit values for all businesses exposed to dust development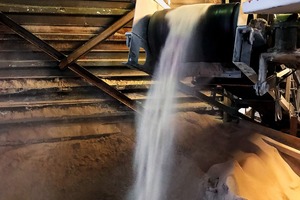 Quelle/Source: NEBOLEX Umwelttechnik GmbH
1 Benebelung eines Bandabwurfs: Die Düsen sind in der gepanzerten, patentierten Sprühnebelleiste vor Steinschlägen optimal geschützt • Misting of a conveyor discharge: in the armored, patented spray bar, the nozzles are optimally protected against falling rocks
Quelle/Source: NEBOLEX Umwelttechnik GmbH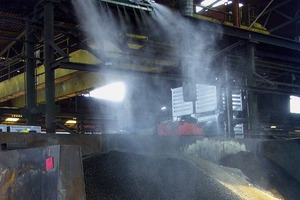 Quelle/Source: NEBOLEX Umwelttechnik GmbH
2 Bei der Hallenbenebelung ist die Nebelleiste flexibel auf Schienen montiert und kann per Funkfernbedienung einzelne Halden benebeln • In the case of hall fogging, the fog bar is flexibly mounted on rails to enable fogging of individual heaps by remote control
Quelle/Source: NEBOLEX Umwelttechnik GmbH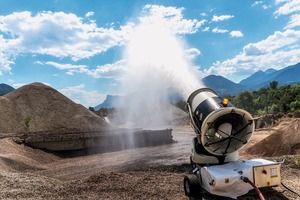 Quelle/Source: NEBOLEX Umwelttechnik GmbH
3 Mobile Staubbindemaschine von NEBOLEX mit verschiedenen Wurfweiten von klein und fein bis groß und weit mit unterschiedlichen Wasserverbräuchen • Mobile dust binding machine from NEBOLEX with different throw distances from small and fine to large and wide, with different water consumption
Quelle/Source: NEBOLEX Umwelttechnik GmbH
T‌he redesign and revision of the TRGS 504 - Technical Rules for Hazardous Substances (Exposure of A and E - Dust) requires new occupational exposure limits for all businesses exposed to dust development. The compliance with the values by means of a protective measure concept for dust reduction is reviewed by regulatory authorities such as trade supervisory offices. The company's experts responsible for this should therefore become informed in good time and make use of free advisory services on various plant technologies for high-performance emission protection.
Water misting, whether mobile or stationary, is an important protective measure. 15 years ago, NEBOLEX Umwelttechnik GmbH specialized in dust binding by water mist with a wide range of small to large and wide throw distances. Typical applications are material handling stations, recycling yards, construction sites, demolition, earthworks, waste incineration, quarries, mines, steel and cement works, tunnel works as well as hall fogging.
Depending on the application, an extremely fine water mist is generated by different sizes or numbers of nozzles and through varying water or air pressure. The smaller the water drops, the larger the total water surface and the more dust can be bound.
NEBOLEX does not provide ready-made solutions, but addresses the specific requirements in order to achieve the optimum result for the client. From planning, on-site discussions, quotation, technical drawings, installation and commissioning up to service, maintenance and spare parts supply even outside Europe Nebolex is your all-round partner when dust becomes a challenge.