Efficiency in recycling
Powerful processing technology from Powerscreen and Telestack
T‌he REWO team, with Managing Director Ms. Wolf, relies on high-performance processing technology from Powerscreen and Telestack. The aging stationary technology was completely replaced by a Warrior 1400 screening plant, a TP500SR impact crusher and an LF520 stockpile conveyor.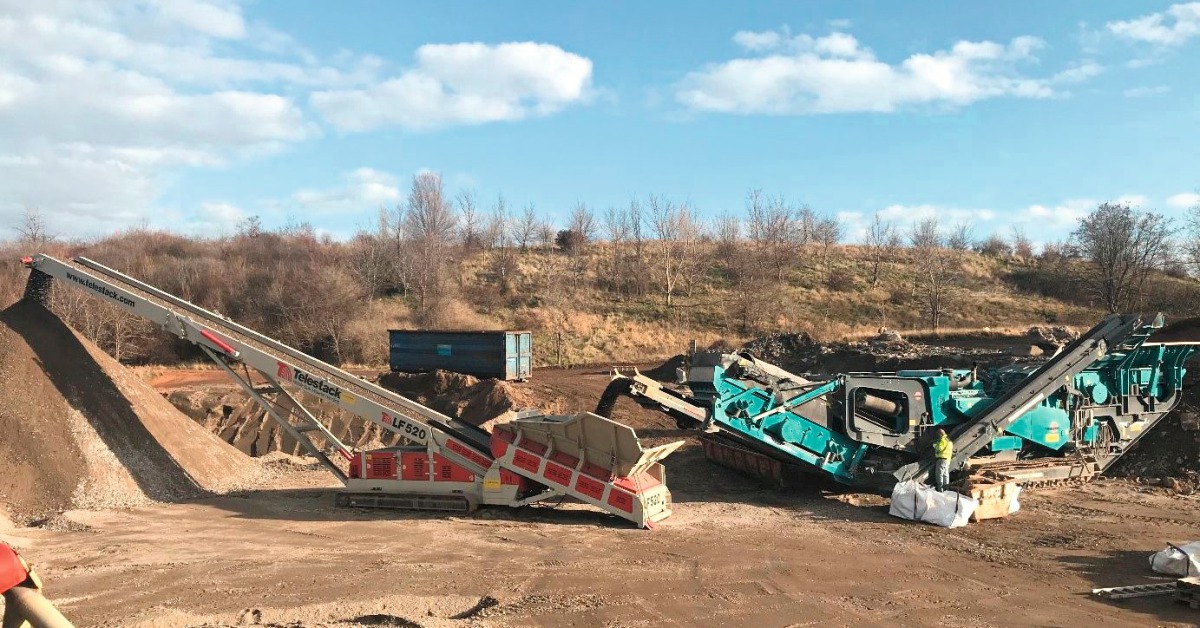 Scalping screen Warrior 1800 from Powerscreen
© Christophel

Scalping screen Warrior 1800 from Powerscreen

© Christophel

The impact mill is the new heart of the recycling company. With a throughput capacity of approx. 200 t/h, fully mobile mineral breakup masses are now processed into high-quality raw materials. Powerscreen's Trakpactor 500SR combines modern impact mill technology from Hazemag and Powerscreen's "Engineering" to create a robust and efficient combined plant. The plant features an active double-deck screen upstream of the crushing chamber and a single-deck post-screening unit.

The pre-screen ensures that cohesive fines are removed and valuable grain fractions are returned to the crushing process. Optionally, the material can be discharged via the extra-long stockpile belt or fed back to the end product via the bypass. Furthermore, wear is minimized due to the low fines content in the crushing process. With the secondary screen, a qualified end product is produced directly and the oversize material is returned to the crushing unit. Due to the 4.80 m long screen, even fine separating cuts can be carried out with high throughput.

The robust and efficient crushing chamber of the Hazemag impact mill is equipped with hydraulically supported impactors. This ensures maximum safety against foreign object ingress. In addition, the crushing chamber can be quickly and elegantly adjusted to the desired degree of crushing, as well as cloggers can be safely and conveniently removed, and no energy is lost due to compressed springs. The result is maximum reduction of feed material with little oversize.

The mobile technology is complemented by an LF520 chain-mobile stockpile conveyor from Telestack. The stockpile conveyor is equipped with a heavy-duty hopper, so it can be fed directly with a wheel loader or used behind a mobile plant. It thus enables high stockpiles to be placed in the tightest of spaces. Instead of climbing the stockpiles inefficiently with a wheel loader, the LF520 can quickly stockpile 500 t, and that with a stockpile height of 8.9 m. The stockpile conveyor can also work directly behind one of the mobile machines and then heaps the material at about 1/3 of the usual wheel loader costs and also protects the environment in the process. REWO now offers the belt for rent for these special tasks.