Additional revenue
Processing of construction and demolition material with new plant from CDE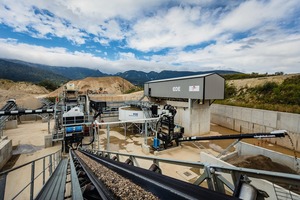 © CDE Global
1 Ein ehemaliger Steinbruch, der Standort Chauvilly des Unternehmens, ist seit 1998 Basis des Recycling-Betriebs • A former quarry, the company's Chauvilly site, became the base of its recycling operations in 1998
© CDE Global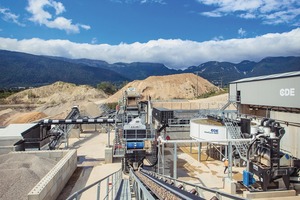 © CDE Global
2 Die neue Anlage von CDE unterstützt Pélichet dabei, bis zu 200 000 t inerten Bau- und Abbruchabfall pro Jahr von Deponien umzuleiten • The new CDE plant will support Pélichet to divert up to 200 000 t/a of inert construction and demolition waste from landfill
© CDE Global
P‌élichet Albert SA, the public works contractor and aggregates producer based in western France, operates a circular economy business model with operations in demolition, groundworks, landfill and C&D waste recycling. The almost century-old company, which was founded in 1921, has, over the past two decades, adapted its business to pay greater attention to recycled materials for use in the construction industry. This followed the introduction of local legislation which, in the early 1990s, halted the extraction of finite natural resources in the French region.
A former quarry, the company's Chauvilly site, became the base of its recycling operations in 1998 and has processed C&D waste material sourced from Pélichet's business activities ever since. A new 160 t/h plant recently commissioned by leading wet processing equipment manufacturer CDE at the Chauvilly site will support Pélichet to divert up to 200 000 t/a of inert construction and demolition waste from landfill, and with it enable Pélichet to expand its operations through additional revenue stemming from the production of higher value products.
Challenging feedstock
CEO Jérôme Pélichet said: "It was during a visit to the UK where we visited a C&D waste recycling operation utilising CDE plant that convinced us CDE was the right partner for this project. We saw first-hand the challenging feed material CDE plant was capable of processing and extracting high-value aggregates from. We had access to similar grade material, but until that point didn't have the technology to process it."
The Pélichet plant mainly processes two types of feed material; firstly, excavated materials from its construction works and demolition operations, including 0 – 300 mm clay-bound, silica-limestone material and, secondly, 0 – 40 mm crushed C&D waste. The presence of plastics and other organic contaminants retained after processing was resulting in second rate products with lower value. Limited water availability proved to be another significant challenge at the company's Chauvilly site. Pélichet and CDE therefore developed a washing system with minimal refill water requirements.
A tailored solution
Marc Sopransi, Business Development Manager at CDE, explains how the commissioned plant is the result of a detailed site audit and clear understanding of aims and objectives of the Pélichet operation. "The technical approach around this project was based on the resolution of four objectives. The main one being to maximize the incoming material, to be able to process more complicated materials than Jérôme was able to treat before. The second, improving the quality, so treating more materials – ultimately to bring them to a better quality. The third, to be self-sufficient in terms of consumption of water. And the fourth, to be able to implement according to the constraints of the site.
CDE presented to Pélichet a wet processing plant, including the R2500 primary scalping screen designed to handle heavy clay-bound gravel, rock and mineral ores and construction, demolition and excavation waste. The R2500 ensures the efficient delivery of difficult material to the wet processing plant. It feeds the AggMax 251 modular scrubbing and classification system, engineered to maximise product yield from clay-bound feedstock.
CDE's flagship EvoWash technology – a compact, modular sand washing system – integrates a high frequency dewatering screen, sump and hydrocyclones to provide unrivalled control of silt cut points and eliminate the loss of quality fines producing a range of high-quality sands.
Addressing the company's desire to be completely self-sufficient in terms of water supply, the plant design incorporates a full water management system which recovers and recirculates up to 95 % of process water. The system includes an AquaCycle thickener which uses a flocculant to separate clean water from the solid particles. The solid particles form a sludge which is dried further in the Filter Press, recovering more water for recirculation and creating a dry filter cake which can be used for pipe bedding and landfill capping. Water supply to the system is fulfilled by a submerged rainwater storage tank located beneath the plant. It can store up to 2600 m3.
The engineered-to-order wet processing system commissioned by CDE is supporting Pélichet to transform 160 t/h of raw feed into washed 0 – 4 mm, 4 – 10 mm, 10 – 20 mm and 20 – 40 mm aggregates for use in concrete mix and drainage systems. "There are economical benefits to the plant and, importantly, there are environmental benefits, too. What was formerly an unsellable product destined for landfill is being processed and recycled into valuable resources for the construction industry," Jérôme Pélichet says. It is estimated the new plant will support Pélichet to divert up to 200 000 t/a of C&D waste from landfill.