RM 120GO! for natural stone and recycling applications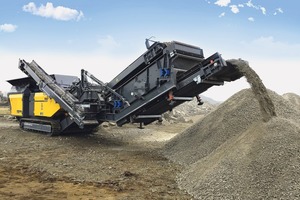 Quelle/Source: Jürgen Kölsch GmbH
1 Der RM 120GO! hat mit nur 35 t Gesamtgewicht eine beeindruckende Durchsatzleistung von bis zu 350 t/h
With a weight of 35t, the RM flagship produces an incredible 350t/h in certain applications
Quelle/Source: Jürgen Kölsch GmbH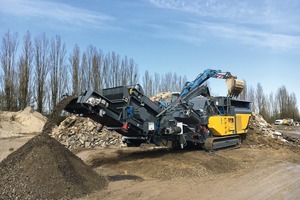 Quelle/Source: RUBBLE MASTER
2 Das schwenkbare Rückführband des RM 90GO! ermöglicht eine Ausgabe des Überkorns in einem beliebigen Winkel zwischen 90° und 180°
The pivoting refeeding belt for the RM 90GO! also allows the oversize grain to be deposited at any angle within an arc of 90° and 180°
Quelle/Source: RUBBLE MASTER
The mobile RM 120GO! impact crusher is compact and easy to transport. Service, cost savings and efficiency are additional strong arguments to purchase a RM 120GO! impact crusher, which will be ­demonstrated during the course of the steinexpo exhibition. With a weight of 35 t, the RM flagship produces 350 t/h in certain applications. Depending on infeed rates and feed process, the RM 120GO! accepts infeed sizes of up to 850 mm and reduces this to an extremely cubicle end product in one pass. It is not only the latest innovation – the RM 120GO! – that offers the highest efficiency and quality, all other crushers produced by RM are designed to provide the highest levels of efficiency.
"The industry is becoming more and more aware of the versa­tility and flexibility of our range on mobile crushers. With the RM 120GO! we offer an impactor that does the job in C&D waste as well as natural stone, especial hard rock, and produces high quality end products. We are constantly challenging the industry, and in most cases proven that the elimination of two or three crushers is absolutely possible and economical," says Gerald Hanisch, CEO of the company.

Also being presented at steinexpo is the RM 90GO! mobile impact crusher with RM MS95 single deck hanging screen with swiveling refeeding belt. A top priority in the development of these screening modules, was to achieve the highest levels of ­accuracy when splitting the crushed material into two end fractions. The material not passing through the screen mesh – the oversized material – is transported back to the hopper of the crusher over the refeed belt RM RFB7540. Because the RFB is able to be swiveled at 90° or 180°, the oversized material can also be deposited on the ground as a sellable product.
One of the RUBBLE MASTER innovations is the RM windsifter, which enables the efficient separation of non-mineral from mineral input and thereby guarantees even higher end aggregate quality. At the heart of the RM windsifter is a blower that feeds the air nozzle via a flexible tube.
Stand C27