Torque limiter ECKH for indirect drives from ENEMAC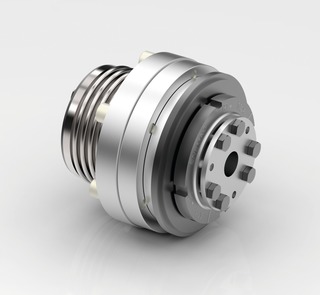 Torque limiter ECKH
© Enemac

Torque limiter ECKH

© Enemac

I‌n the area of direct drives, drive specialist ENEMAC from Kleinwallstadt/Germany offers several hybrid variants between safety coupling and shaft connection. Among others, the type ECKH with metal bellows coupling attachment and conical hub on both sides, from size 3000 with shrink disks on both sides. This type impresses with its high power density of up to 9000 Nm. It combines reliable torque limitation with the convincing advantages of a metal bellows coupling. For example, it can compensate axial misalignments of up to 3 mm and lateral misalignments of up to 1.4 mm between the motor shaft and output shaft without any problems and achieves high torsional stiffness at the same time. This coupling can easily accommodate shaft diameters between 5 and 120 mm at up to 4000 rpm. The torque limiter can be used in a temperature range between 243 K and 473 K. The disengagement torque is continuously adjustable by the customer.

This torque limiter is also available as a corrosion-protected variant. The type ECKH is generally used in mechanical engineering as well as in test benches and plant constructions, but also in conveyor systems and in the heavy industry.