Perfect for mining
WEG presents slip ring motors of the new M Mining series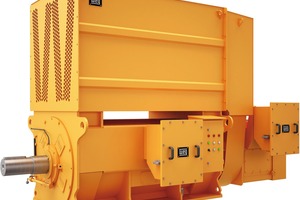 Quelle/Source: WEG
1 Die robuste M Mining-Reihe ist für staubige Umgebungen im Erz- oder Zementsegment konzipiert • The robust M Mining series is intended for dusty environments in the iron ore or cement sector
Quelle/Source: WEG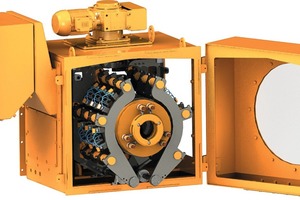 Quelle/Source: WEG
2 In der M Mining-Schleifringläufermotoren-Variante mit Kohlebürsten-Abhebevorrichtung wurde der Bürstenhubmechanismus und damit die Wartung vereinfacht • In the M Mining slip-ring motor version with liftable carbon brushes, the brush lifting mechanism has been simplified to make maintenance easier
Quelle/Source: WEG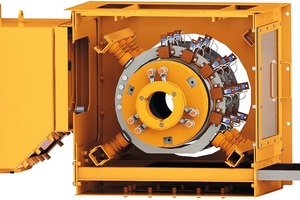 Quelle/Source: WEG
3 Bei der M Mining-Schleifringläufermotoren-Variante mit dauerhaft aufliegenden Bürstensystem ist das Kühlsystem des Bürstenraums unabhängig vom Motorkühlungssystem, was den Wirkungsgrad erhöht • In the M Mining slip-ring motor version with constant contact, the cooling system of the brush compartment is independent of the motor cooling system, which further boosts efficiency
Quelle/Source: WEG
W‌EG introduces the new M Mining range of slip-ring motors for use in the mining and cement industries. Available in design sizes from IEC 355 to 1000, the new M Mining slip-ring motors cover a power range from 250 kW to 10 000 kW at frequencies of 50 or 60 Hz. The three-phase four to fourteen pole induction motors are designed for voltages of up to 13 800 V. The robust M Mining series is designed for dusty environments in the ore or cement segment. Thus, the slip-ring motors in the field of mining and cement are a proven choice for mills, crushers, fans, exhaust fans, conveyor belts, centrifuges and other applications.
Robust engine, strong performance
"The performance and rugged features of the new M Mining range along with its high degree of protection, the steel housing and two different brush systems, make it the best choice for mining and cement applications," explains Andreas Schulte Mesum, Director European High Voltage Solutions for WEG in Germany. The design was developed to have special electromechanical properties, which offer a long life and high stability."
High starting torques
The wound rotors of slip ring motors allow them to achieve high starting torques along with low start-up current. In contrast to squirrel-cage motors, the windings are connected to three slip-rings that allow a variable resistance to be introduced in the rotor circuit. This has several benefits for users: higher rotor circuit resistance allows the motor's start-up characteristics to be improved. The motor starting current is kept virtually the same as the rated current. In addition, loads can be driven with high starting torque, while driving high-inertia loads is also possible. Further advantages include higher efficiency and simple installation.
The new motor series has a slip-ring chamber with a completely new design and a transparent sight opening for inspection and access. Simplified commissioning is optionally possible by combining the motor with a fully integrated installed control panel. At the same time, operating and maintenance costs are reduced and plant availability is increased.
Choice between two different brush systems
The motor series is available in two versions, either with a brush lifter or with brushes in constant contact. Each version has its specific advantages in individual use cases. The lifting mechanism of the brush lifting device has been redesigned to make maintenance even easier. Compared to the version with fixed brushes, the brush lifting system scores with lower maintenance costs.  In addition, brush wear is reduced by inserted pressure springs. An integrated control system for the carbon brush lifter is optionally available.
The system with the brushes in constant contact with its innovative design and new insulation arrangement offers different advantages: for example, the cooling system of the brush compartment is independent of the motor cooling system, which further boosts efficiency. The extended life of the brushes is one of the main advantages. With this version, user access to the brush compartment is also significantly easier. Protection classes of up to IP66 can be assigned to the brush compartment.
The M Mining motors are available with protection classes from IP55 to IP66. They are additionally protected by WEG paint systems that enable operation in abrasive and humid environments with sulphur dioxide in the air.