Ready for transport at any time
New compact generation of high-performance crushing plants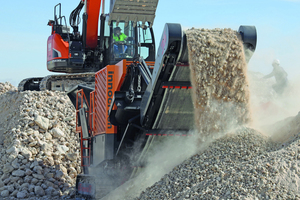 © innocrush
2 The innocrush ic35 can be retrofitted with a screening plant and a return belt or stockpile belt for the oversize fraction without additional effort and cost
© innocrush
A customer of the Spanish innocrush dealer Cridan Machinery S.L. had seen several innocrush crushing plants in various applications and was particularly impressed by the high crushing capacity (throughput). This company contacted Cridan Machinery S.L. in 2020 in the course of purchasing a new crushing plant to find out about innocrush's high-performance crushing plants. In the meantime, the innocrush ic35 high-performance crushing plant sold by Cridan to this customer has been in operation for 2 years and has crushed approximately 500 000 t of natural rock.
During the 2020 consultation, it was noted that Cridan's customer had seen older generation plants. The new generation of high-performance crushing plants from innocrush differs from the older plants essentially in the following points:
All the necessary precautions have been taken for the crushing plant so that it can be retrofitted with a screening plant, and a return belt or stockpile belt for the oversize fraction, without any additional effort or cost.
The screening plant is picked up within a minute by the crushing plant with an integrated device and can also be shut down again accordingly. Only the hydraulic quick coupling is connected or removed.
The impact crusher has been optimised and now has a jaw width of 1250 mm and a capacity of up to 380 t/h. The discharge height of the pre-screening unit has been optimised.
The discharge height of the pre-screening belt has been increased to 2.8 m and the main discharge belt to 3.4 m.
The crawler track has been lengthened and widened, enabling even better manoeuvring of the plant in difficult terrain.
The material is fed to the high-performance ic35 impact crusher by an automatic and load-dependent vibratory feeder.
Even with critical material, as occurs in construction waste recycling or in the recycling of concrete with steel reinforcements, the plant is controlled automatically. Of course, control by radio remote control from the excavator operator is also possible.
In the crusher outlet, the innocrusher is equipped with a special device that protects the conveyor belt from steel reinforcements and punctures.
All maintenance platforms are now permanently installed and no longer need to be removed for transport. The operating and transport width is 2.55 m and the weight of 32 t means that the crusher is always ready for transport. Therefore, even smaller crushing jobs can be carried out economically.
The company was also in contact with other crushing plant suppliers, but chose the innocrush ic35 mainly because of its high performance combined with its compact dimensions. When the crushing plant was handed over to the customer, the company manager and machine manager in particular were surprised by the simple operation and the training that only took 30 minutes. Afterwards, they were also able to operate the plant. The customer of innocrush dealer Cridan Machinery S.L. is extremely satisfied with the innocrush ic35 and is aiming for the 1 000 000 t limit.