Sandvik Mining and Construction Central Europe GmbH

Sandvik Mining and Construction Central Europe GmbH rates steinexpo as one of the most important trade fairs this year. A variety of exhibits will be on display in specially defined areas of the 1250 m² Sandvik stand highlighting the manufacturer's competence in its core market of the raw and construction materials industry. Product innovations and new developments from the Sandvik portfolio in the segments of drilling technology, mobile and stationary rock processing as well as from the area of wear protection and screening media demonstrate the strength, performance and practical understanding of the manufacturer. In addition, digital features in the program address current user expectations in the Industry 4.0 age.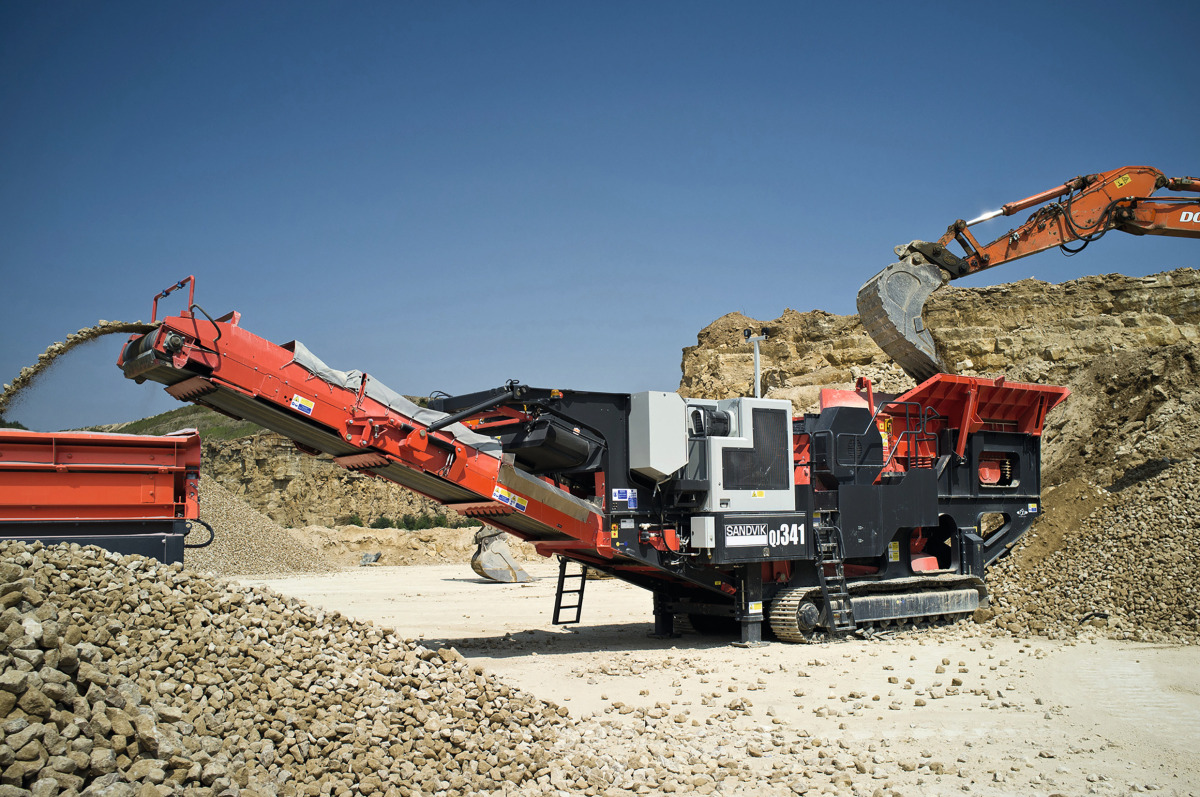 The mobile processing segment is represented by the track-mounted jaw crusher QJ341
© Sandvik
The mobile processing segment is represented by the track-mounted jaw crusher QJ341
© Sandvik
In addition to its own organizations, such as the Essen-based Sandvik Mining and Construction Central Europe GmbH, reliable and well-known partners are essential for regional success. Consequently, Sandvik is also planning this year's demo fair participation together with its dealers TTS Trump Technik and Ferronordic to answer visitors' questions specifically about mobile equipment.
Crushing technology for mobile and stationary applications
Spotlight of the stationary crushing technology is the CH840i cone crusher from the CH800i series – a technologically advanced, high-performance medium-sized unit for secondary and tertiary crushing in processing plants of mines or large quarries. Hydrocone crushers of this series have a hydraulically supported main shaft, which is supported at both ends. Thanks to the robust construction, an adjustable stroke and the CLP Sandvik OEM crushing chamber design, high production capacity can be achieved with consistent product quality.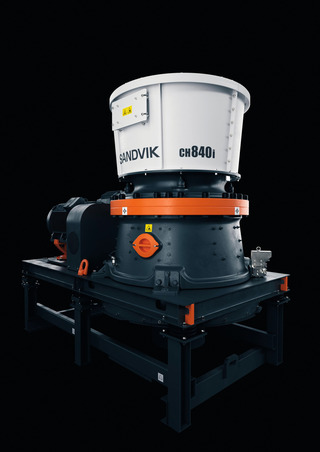 Designed specifically for applications in the rock industry: The remarkable CH800i cone crusher series, which includes this CH840i, addresses users with high quality awareness
© Sandvik

Designed specifically for applications in the rock industry: The remarkable CH800i cone crusher series, which includes this CH840i, addresses users with high quality awareness

© Sandvik

The CH840i comes with the latest generation Automation & Connectivity System (ACS) as standard. The system continuously monitors and optimizes crusher utilization and controls the complete lubrication system to increase machine availability and reliability. ACS also automatically adjusts crusher settings in real-time to match variations in feed curve and material hardness. This compensates for wear in the crushing chamber to ensure consistent product particle size. Bolted instead of welded wear protection elements on the upper and lower housing reduce maintenance times by up to 90 %. All service and inspection work is carried out from above. This makes the relevant work safer and also reduces the maintenance effort required for the robustly designed crusher series.

Other features that protect against wear or delay its progress include the improved overpressure system with special air inlets. It protects against dust and increases reliability. A standard off-line filter unit keeps the lube oil cleaner through fine filtration, reducing wear on internal crusher components and extending oil life by up to five times.

Weighing just under 25.8 t, the CH840i cone crusher achieves throughputs of between 212 and 659 t/h, depending on crushing chamber, feed material and desired particle size. The maximum feed size is specified at 431 mm. A variety of standard crushing chambers are available for each model in the range. The Hydrocone can be easily adapted to production-side changes by selecting the appropriate crushing chamber and stroke.

The exhibition will be complemented by the first joint product presentation in the area of screening technology. Through the acquisition of the screening technology manufacturers Kwatani (formerly Joest Afrika) and Schenck Process Mining, the portfolio in the area of screening technology has been substantionally expanded over the past two years. In addition to a DF classifier exciter and linear vibrating screens, a wide variety of screening media will be presented, as well as a web-based monitoring system for monitoring screening machines.

Mobile plant operators will find the QJ341 on display, the largest mobile jaw crusher in Sandvik's world-leading Q series, with its own fuel-efficient stage V CAT diesel engine, hydraulic drive and overband magnet. Designed for use in quarries and demanding recycling applications, the continuously improved mobile plant, which weighs almost 49 t, is ideally equipped for tough operating conditions. The single-toggle jaw crusher is certified to have a capacity of up to 400 t/h. Built for durability, it comes complete with many features as standard such as a level sensor, central lubrication, dust suppression system, extended main conveyor with a raise and lower facility for removal of blockages. A radio remote control for the tracks makes it easy to move the machine on site. Integrated into the My-Fleet telematics for mobile crushers and screens, the system supplies important data via an online portal, to optimize machine performance.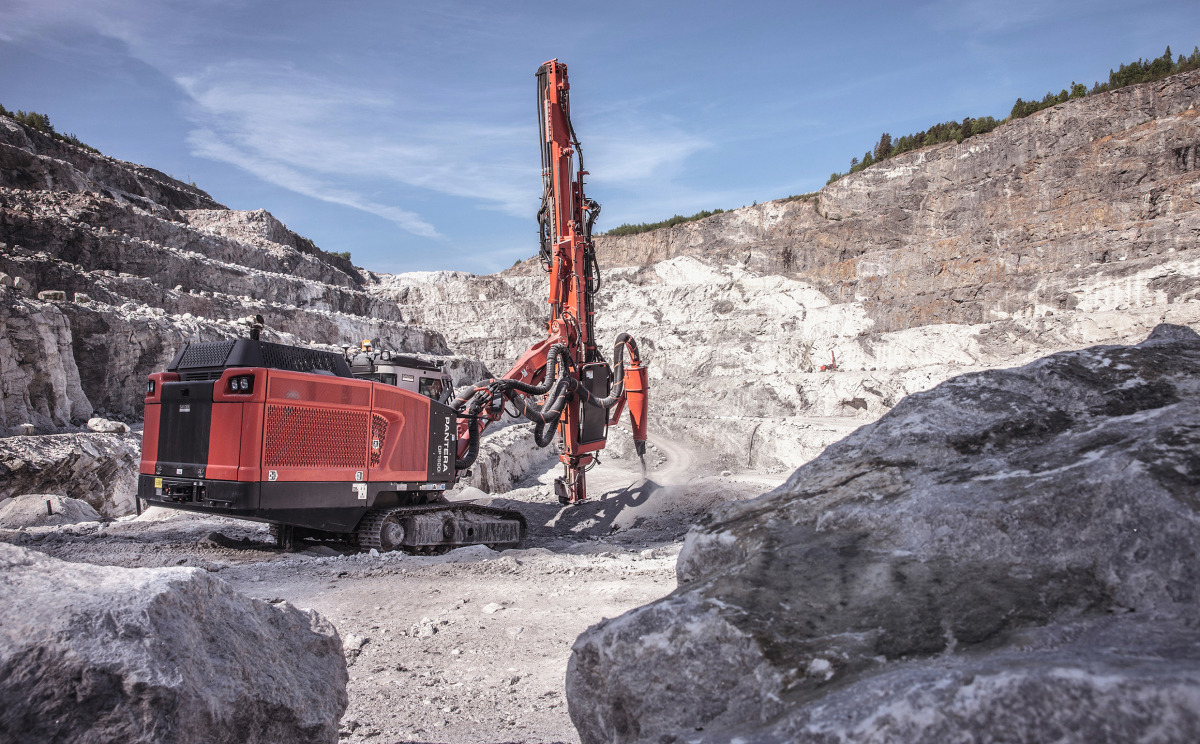 The Pantera DP1500i drill rig is considered the flagship of the Sandvik drill rig series in Germany
© Sandvik
The Pantera DP1500i drill rig is considered the flagship of the Sandvik drill rig series in Germany
© Sandvik
The latest generation(s) of digital support for preparation
With the new "SAM by Sandvik" tool, a digital assistant is now available to provide insight, support and information needed to increase productivity in stationary crushing and screening. A constantly evolving digital service, SAM was launched to optimize operations. Activities and data flow together in a user-friendly, seamless collaboration tool. Technical managers, operators and service technicians get a complete view of what's happening across the plant, maintenance managers are informed about the condition of all equipment, and buyers can get to the SAM web store without any obstacles.
As the new best friend of plant managers, SAM offers its services in "SAM Standard" and "SAM Connected" variants. While the Standard variant includes the benefits already described (and a few more), the "Connected version" offers an additional utility plus, for example, by making it possible to track parameters of Sandvik cone crushers equipped with the ACS-c, ASRi 1.x or 2.x automation system in the SAM web application or via mobile devices using SAM apps (available in the Apple Store and Google Play).
Following the acquisition by Sandvik, the CONiQ cloud system formerly developed by Schenck Process is being consistently further developed and integrated into the existing digital infrastructure and product world. This solution acts like a virtual bridge between screening equipment and relevant digital services. In this case, too, the recorded operator data is the key to digital services such as remote service or efficient spare parts management. Thanks to the stored empirical values from machine and process tests, it is possible to predict with high precision how the machines will react under almost all operating conditions.
The service includes a data-driven model that predicts normal behavior based on historical data and current machine and process operation. Unlike normal condition monitoring based on predetermined absolute alarm limits, the approach focuses on the difference between measured and predicted value; the so-called residual value. This reflects the degree of deviation from normal operation and is more sensitive to changes of any kind. The goal is not only safer and more efficient operation, but also an extended response time for operators so that they can take appropriate action before a possible machine failure. For vibrating screens and vibrators, the monitoring system includes numerous wireless and three-dimensional fully synchronized motion sensors distributed at critical positions around the machine. Based on this sensor data, a 3D wireframe video representation of the machine motion can be generated. Via a slow-motion function and the amplification of non-ideal motion patterns, even non-experts can detect unfavorable deviations.
The information provided is converted into an easy-to-understand graphical representation of threshold values in trend diagrams. In addition, a machine learning-based anomaly detector highlights deviations from normal signal patterns. When an anomaly is detected, the system sends a warning email with compressed relevant information to the defined responsible parties. The system is always supported and supplemented by ad-hoc service experts for current and historical machine problems. Thanks to a high degree of flexibility, the digital tool, designed as a plug & play solution, can be adapted to any type of process equipment, integrated into existing systems and updated as required.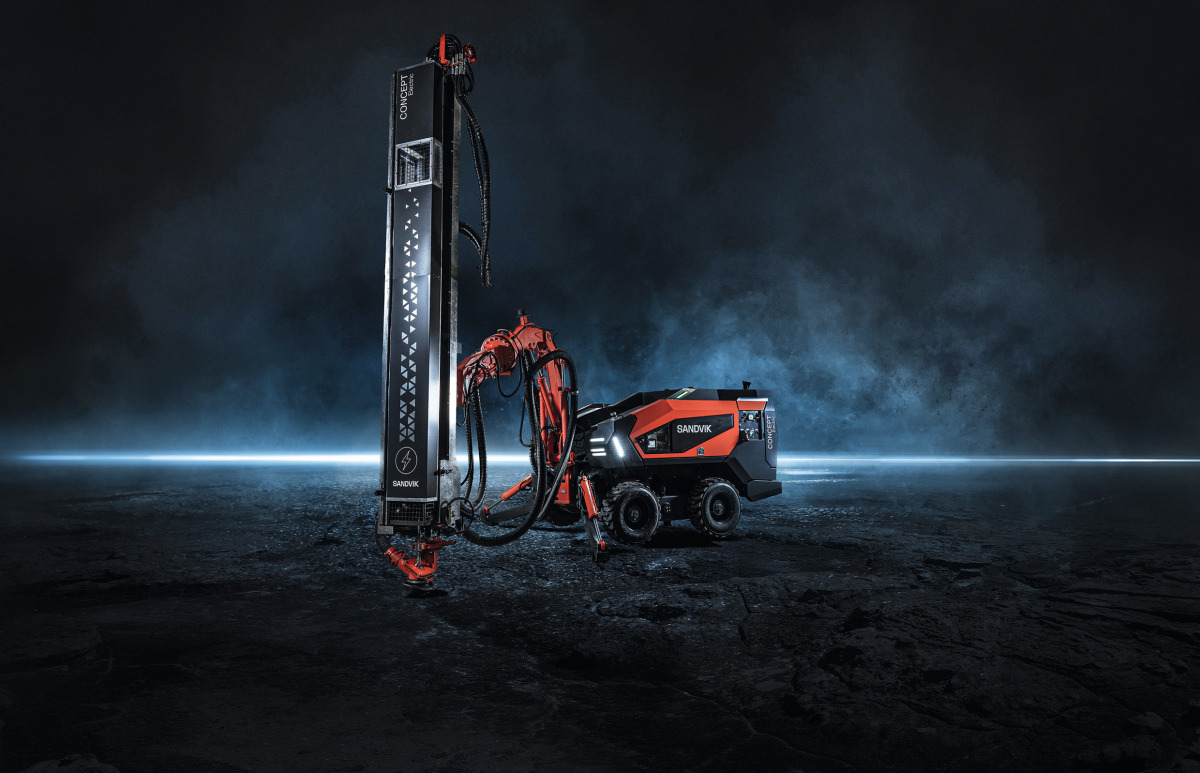 Commando – a visionary machine with a lot of new technology
© Sandvik
Commando – a visionary machine with a lot of new technology
© Sandvik
Equipment for the first step in the process: the rock excavation
The Pantera DP1500i top hammer drill rig, which is both Germany's flagship and the most popular model, will be showcased at the event. Pantera™ DP1500i is known for its high penetration rate, with hole diameters ranging from 89 to 152 mm, and it is the ideal choice for production drilling in large quarries or for the use of contractors. Based on the well-known DPi characteristics, the reformed drill rigs feature improvements that provide true power, fuel economy, more uptime hours and a smooth flow of operation. Combined with an optional high-frequency rock drill, it ensures optimal drilling performance in changing rock conditions.
On display, there will also be a machine that will make its debut in Germany, the Commando™ DC300Ri-based electric concept drill rig. The new concept rig is a versatile research and development platform to demonstrate some of the most advanced technologies to be introduced in future surface drill rigs. The event is an excellent opportunity for visitors to discuss the visionary electric concept drill rig with Sandvik's surface drilling product experts.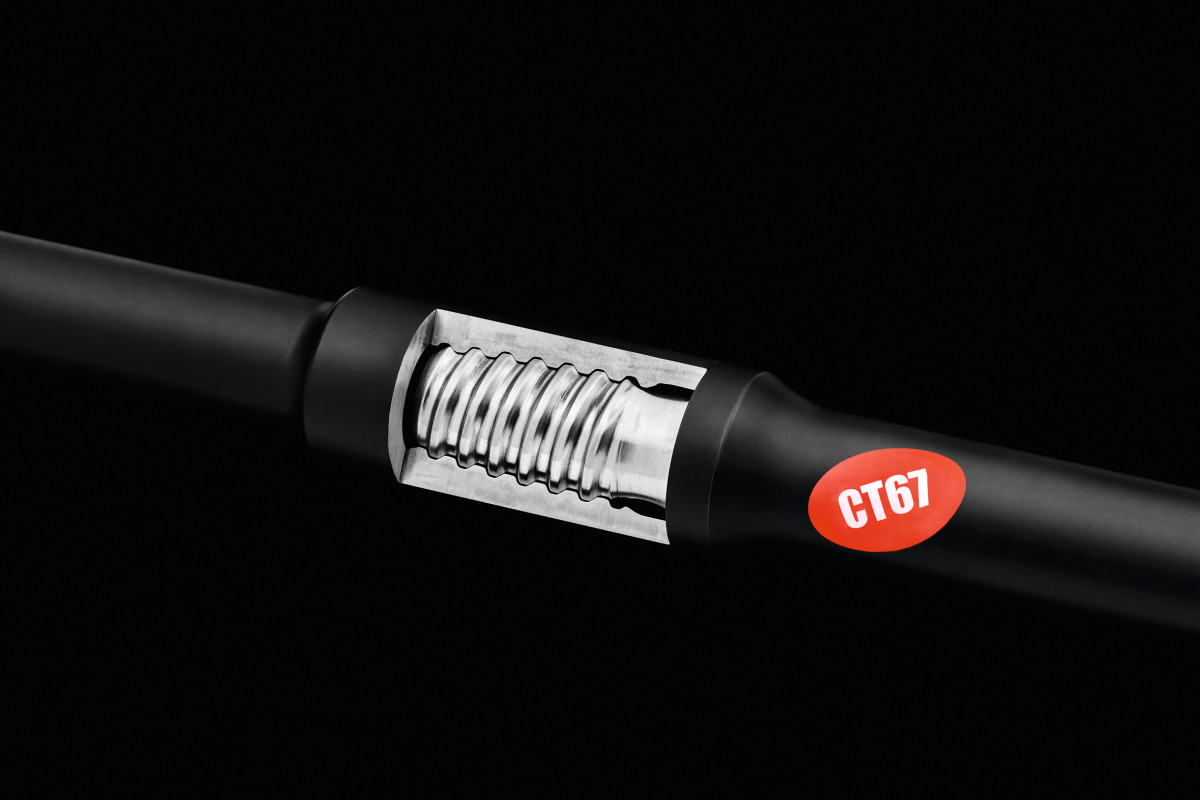 Introduction of the innovative Curved Thread systems CT55 and CT67
© Sandvik
Introduction of the innovative Curved Thread systems CT55 and CT67
© Sandvik
Even the most perfect machine can only ever be as good as the tools with which the actual work has to be done. With the introduction of the innovative, patented Curved Thread systems CT55 and CT67, Sandvik Rock Tools promises to improve the utilization of the machine and thus increase productivity enormously. Combined with the powerful DXi and Dpi series drill rigs, the CT system supports higher penetration rates while maintaining low hole deviation. The curvature profile and design of the thread reduces stresses at critical – and therefore crucial – points, which are common with standard systems, and every corner of the product is optimized for fatigue strength, allowing more efficient energy transfer. In addition to the positive effect of optimized energy transfer, which results in higher productivity with lower fuel costs thanks to a faster penetration rate per meter, the curved thread also makes the coupling and uncoupling process much easier. Long tool life and fewer premature breakages geniting lower total drilling costs, round off the multitude of positive effects with this new system. The CT55 and CT67 thread system will be one of the highlights at steinexpo Sandvik booth.
Booth C1