RMGroup and ABB Robotics UK hail success of interactive workshop
05.05.2023
One of the leading packaging machinery and robotic automation specialists, RMGroup, in collaboration with ABB Robotics UK, held an engaging interactive workshop on 30 March. The well-attended event, which offered guidance through the ever-changing robotics and automation landscape, took place at ABB's Milton Keynes headquarters.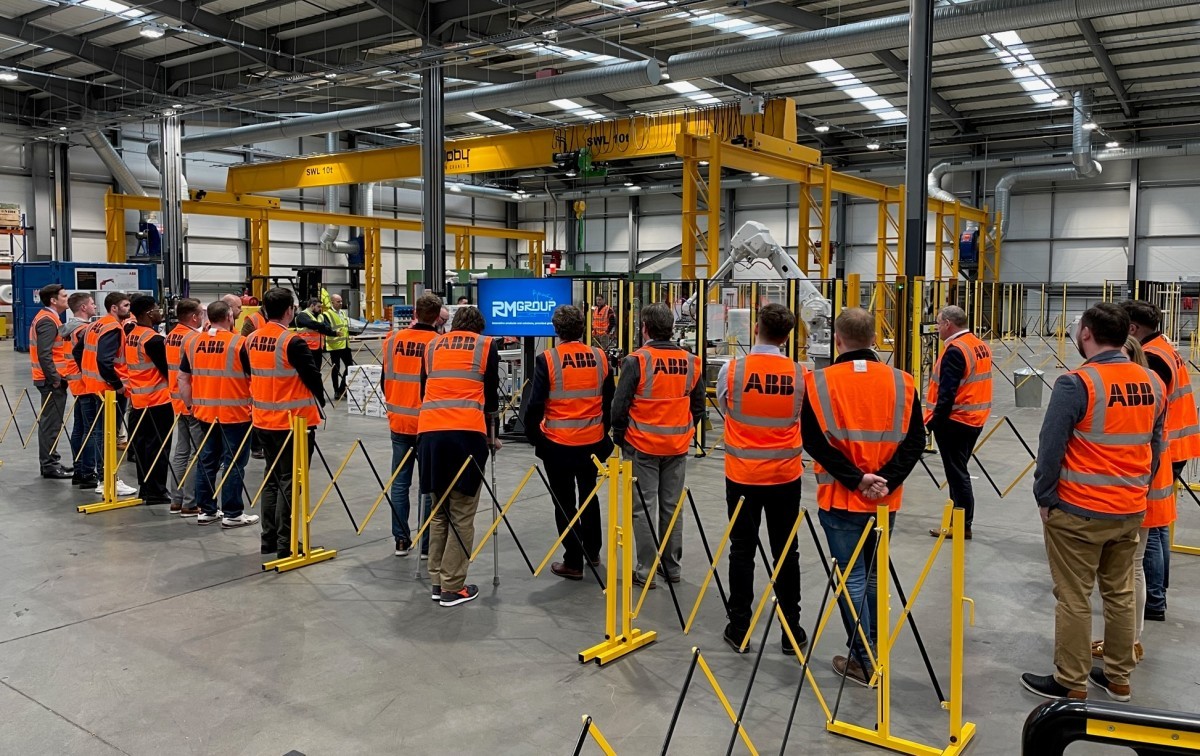 © RMGroup
Following a welcome presentation by Steve Banton, channel manager ABB Robotics UK, covering ABB's history, product portfolio and its working relationship with RMGroup as an ABB Valued Provider, delegates listened to a presentation and saw a robotic palletising and AMR demonstration by RMGroup's technical compliance manager, Paul Jewell. Thereafter, a presentation by Dr Martin Kidman, product manager for SICK UK (Safety products, systems and services) followed, his talk centred on SICK's sensor solutions that help control processes securely and efficiently. A panel discussion with an open Q&A rounded off the morning's activity. The lively session covered a range of topics including, barriers to adoption, robot capability and implementation, collaborative robotic systems, the future of robotics and the next generations, and more.
Following lunch and networking, delegates took the opportunity to view live demonstrations of applications utilising industrial and mobile robots, including palletising, pick and place, material handling and storage operations. Table-top exhibits by supplier partners, including SICK UK, print and apply labelling specialist, Logopak, and automation experts, Simmatic, provided delegates with opportunities to discuss specific areas of interest.
Commenting on the event, attendee Paul Bavin, operations director from Burts Snacks, said: "It was really good to be able to view what is available for future projects relevant to our application. With the issues with skilled labour shortages across the industry, together with the need to maintain an ROI, the more automation you can do the better. It was great to be able to understand the depth and scope of what RMGroup can now offer."
Colleague, Stuart Watkins, supply chain director, added: "The total turnkey, single integrator is really attractive to us. Since the pandemic, it has become increasingly harder to see machinery in operation, so being able to visualise and see the equipment first-hand through the live demos has been very useful."
ABB Robotics UK hailed the success of the event, thanking both RMGroup and partner suppliers for their participation, with Steve Banton saying: "It is great to be shining the light today on one of our partners [RMGroup] that we hold in such high regard. Trusted partnerships are so important as we manufacture and provide technical solutions to the end user.
"Events like this provide confidence in what robotics and automation can achieve across multiple of applications and industries. To see the equipment first-hand, talk to the experts and know you are working with the right companies makes this type of format a worthwhile experience."
RMGroup's Rosie Davies agreed, by adding: "In addition to exhibitions, having this knowledge transfer opportunity for those looking to invest in automation is invaluable. Today we have been able to deliver key messages in automation and safety to support end users in their decision-making process. Insightful events such as these open up opportunities and further extends new and existing relationships. It has been amazing to connect with our partners who have supported the event."
RMGroup supplies and manufactures a wide range of manual and automated packaging systems. These include robot palletising systems, pallet wrapping and material handling systems, as well as a wide range of bagging solutions, weighing systems and high-speed form fill and seal packaging lines. Their ongoing partnership with ABB Robotics UK means that they can offer a fully automated AMR/AGV solution for fulfilment, distribution and manufacturing kitting operations.