First modular plant to Nepal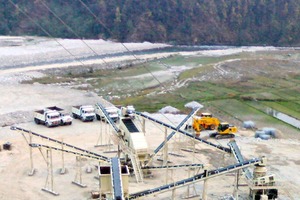 1 Nepals erste modulare Brech- und Siebanlage - geliefert von Metso # Nepal's first modular crushing and screening plant, delivered by Metso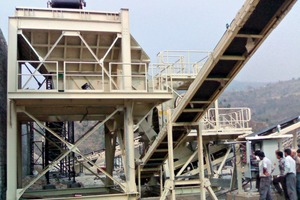 2 Ein robuster Aufgeber beschickt einen Metso-Backenbrecher vom Typ C80 mit Brechgut # A sturdy feeder distributes the materials to be crushed to a Metso C80 jaw crusher
Metso delivered its first modular crushing and screening plant to M/S Palchowke Mai Roda Dunga Udyog Limited (PMRD) in Melamchi/Nepal (Fig. 1). The modular plant solution offers PMRD a fast and effective response to productivity and quality requirements.

1 High performance guaranteed
The diversity of operations at a typical construction site involves quick decision-making and often a lot of pressure to ensure a timely execution. Considering today's volatile market scenario, business partners must maintain pace with their customers' ever-changing requirements. Understanding customers' strategic business needs is of utmost importance. PMRD's aggragate plant was commissioned in January 2011 and has logged about 1200 hours of operation to date. The plant is much more compact than the traditional skid-mounted plant and provides space for free movement of utility equipment within the plant area.

One of the key features of the plant is the totally bolted structure. It can be easily dismantled into sub-assemblies, transported and re-assembled effortlessly at a new location, which is one of the biggest advantages in helping to meet new market demand. Due to the use of pre-assembled modules for each crushing station, the installation work on site takes less time, thus decreasing the plant's installation lead time. The plant also includes a foldable conveyor for maintenance of the cone crushers.

2 Stepping up with Metso
PMRD operates a two-stage plant comprising a C80 jaw crusher (Fig. 2), an HP200 high performance cone crusher, a CVB1845 screen with circular motion MV2 vibratory mechanism for final product recovery (Fig. 3), resulting in an aggregate plant of 150 t/h capacity for producing size fractions of 0-40 mm. The plant is an example of world-class craftsmanship and excellent material handling capacity.

Modular and non-welded construction supported by durable pitman assembly, single-piece cast steel frame bearing housings with repairable crusher construction and the right cavity design results in aggressive kinematics and high power that best suits the requirements of the customer.

PMRD has immense pride in the plant. "The performance has been astounding, with applications ranging from road aggregates, commercial sand production to ready-mix concretes. The modular plant is almost set to create a new niche in aggregates processing in Nepal's construction industry. It is one of a kind and we are surprised at the plant's production capacity. It is easy to operate and requires minimal manpower. Our cost per ton has significantly gone down and so has the cost of production," says Mr. Sandeep K Agarwal, Director, PMRD.

3 Safety as a key issue
Health, safety and environmental solutions are key concerns for Metso, and they are addressed with the same sense of responsibility as quality, productivity and cost-efficiency issues. Metso is responsible for conducting operations in an environmentally sound way and offers products and services that can help customers fulfill their environmental responsibilities. Due to this guarantee, the plant office and site is provided with operation and maintenance manuals for each and every piece of equipment, including safety issues, which are entrusted to all the operators.

All conveyors are equipped with pull-cord safety switches along with emergency stop buttons. The working area and walkways are all equipped with safety hand rails and checkered plates for anti-skidding. The entire plant is equipped with earth pits for electrical current earth leakage prevention. Metso has ensured all possible measures to maintain high safety standards for all operation and maintenance personnel.