BEUMER Group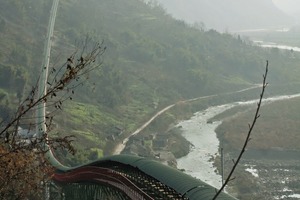 1 Die BEUMER-Gruppe ist auf dem Gebiet der Gurtförderanlagen für herausragendes und umfassendes Know-how bekannt • The BEUMER Group is well known in the field of belt conveyor systems for its outstanding and comprehensive expertise

The product range offered by the BEUMER Group at the POWTECH 2013 extends from bagging, palletizing and load securing equipment to warehouse management systems for building materials and chemical products.
BEUMER plans, builds and installs systems which are matched to the customer's individual requirements down to the last detail. With its belt conveyors, among other things, the BEUMER Group supplies economical and sustainable solutions for the conveying of bulk materials (Fig. 1). The company group is today one of the technological leaders in curved belt systems and conveyors. These are used in open design in the form of troughed conveyors, or as an enclosed version in the form of tubular belt conveyors. They can be optimally matched to the environment and overcome long distances and large height differences. This is ensured by their optimum line through the terrain and tight horizontal and vertical curves which can also be laid above one another in the route of the conveyor. Rugged terrain, rivers, roads, buildings and rail tracks are no obstacle.
For example, the BEUMER Group's range includes the BEUMER paletpac high-performance layer palletizer for palletizing bags filled with bulk materials (Fig. 2). This flexible unit stacks PE and PP bags, layer-by-layer, on pallets of all common sizes up to a pack height of 2400 mm with geometrical accuracy and extreme stability. The user can quickly and easily set the required parameters using a multi-program. Depending on the product requirements, the BEUMER paletpac is fitted with a rotary clamp or double belt turning device which moves the filled bags quickly and gently into the required position. The BEUMER stretch hood high-performance packaging machine packages these stacked bags quickly, reliably and permanently and is designed for a number of film thicknesses. This machine is also more flexible than comparable systems in the handling of different pallets and film formats. It is distinguished by high throughput and reliable film handling.
BEUMER has also developed a Warehouse Management System (WMS). This system fulfills all the main requirements of the bulk materials industry such as the storage of sensitive substances, batch tracking and space-saving and cost-efficient warehouse management. The WMS has an interface to all common ERP systems. The WMS incorporates warehouse management, the material flow system and process control of the individual machines. The user therefore has a continuous overview of his production and storage facilities at all times and can match them to the prevailing requirements.
Hall 1; Stand 135