CEMEX invests in Piesberg Quarry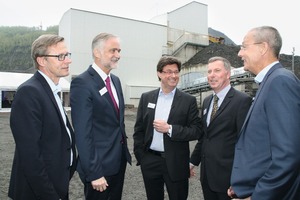 Quelle/Source: CEMEX Deutschland AG / Annette Lüning
1 Am Tag der Einweihung der neuen Vorbrecheranlage in Piesberg (v.l.n.r.): Otto Steinkamp, Bürgermeister der Gemeinde Wallenhorst Wolfgang Griesert, Oberbürgermeister der Stadt Osnabrück Rüdiger Kuhn, Vorstandsvorsitzender der CEMEX Deutschland AG Peter Graf von Spee, Regionalleiter der CEMEX Kies & Splitt GmbH Michael Schulte, Vice President Aggregates der CEMEX Deutschland AG • On the day of the inauguration of the new primary crushing station in Piesberg (left to right): Otto Steinkamp, Mayor of Wallenhorst, Wolfgang Griesert, Lord Mayor of the city of Osnabrück Rüdiger Kuhn, CEO at CEMEX Deutschland AG, Peter Graf von Spee, Regional Manager at CEMEX Kies & Splitt GmbH, Michael Schulte, Vice-President Aggregates at CEMEX Deutschland AG
Quelle/Source: CEMEX Deutschland AG / Annette Lüning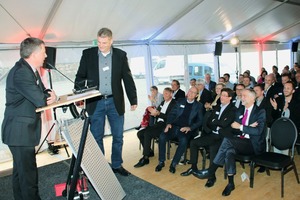 Quelle/Source: CEMEX Deutschland AG / Annette Lüning
2 Peter Graf von Spee, Regionalleiter der CEMEX Kies & Splitt GmbH mit Werkleiter Thomas Kleinkröger bei der symbolischen Freischaltung des Brechers • Peter Graf von Spee, Regional Manager at CEMEX Kies & Splitt GmbH with plant manager Thomas Kleinkröger at the symbolic activation of the crusher
Quelle/Source: CEMEX Deutschland AG / Annette Lüning
Since 2015, around € 5.5 mill. have been invested by CEMEX in the rebuilding of its primary crushing station and more environmentally friendly conveying equipment. At the official inauguration on 5 May 2017, CEMEX Kies & Splitt GmbH presented the optimized plant at Piesberg Quarry to around 180 guests. The investment will secure the future of the site for years to come.
The new plant and the extension of the quarrying area by six hectares give CEMEX Kies & Splitt GmbH access to additional raw material deposits, which will secure production at the plant for another 15 to 20 years. At its former position, the primary crusher blocked a rocky outcrop and, with it, part of the ­reserves in the quarry. The repositioning o the crusher as part of the investment project makes other reserves accessible. Without the investment, the accessible raw materials would have run out in a few years. Rüdiger Kuhn, CEO at CEMEX Deutschland AG, explains the investment project: "The considerable funds amounting to around 5.5 millions €, were approved for us outside our official budget. So, the high-quality products from Piesberg Quarry will still be available to the construction industry in the years to come."
The primary crusher, a Weserhütte crusher, now stands at a new site on the 70-m bottom of the northern part of quarry, which has already been exhausted. When it has precrushed the material, 655-m-long belt conveyors transport the crushed ­material to the secondary crushing stage, a Skoda jaw crusher. In a few years, the belt will be moved and the material will go direct to the recrusher. The belts are enclosed, which avoids dust and noise, and in operation they demonstrate a better energy ­balance than the previous conveying method on trucks.
Valuable mineral resources and
special geological situation
The Piesberg Quarry reports annual sales between 1.1 and 1.4 million t Carboniferous quartzite. A forty-man team produces 35 grades of mineral resources for almost all applications in building construction and civil engineering: for asphalt producers, concrete plants and artificial stone plants, road construction, hydraulic engineering and railway construction. The product range extends from rock flour (filler) to LMB 5/40 water blocks and raw blocks. The buyers come mainly from Northwest Germany. Some of the products are dispatched by rail and ship.
The importance of Piesberg Quarry can be explained by the extraordinary geological situation: the Piesberg is the northernmost point in Central Europe at which strata of the Carboniferous outcrop at the Earth's surface, here is the northernmost hard rock deposit in Germany. The Piesberg rock is the only one in Northwest Germany that is suitable for asphalt production.