Pyford Brook Quarry
New Cemex sand and gravel plant ready for operation
Located in the heart of England, Quarry Manufacturing and Supplies Ltd. (QMS) has since its formation in the 1980s grown to be one of the UKs leading suppliers of crushing, screening and stockpiling equipment. In addition to providing the hardware that makes the mineral processing industry tick, QMS has also supported aggregate and mining operations worldwide with the company's extensive range of aftermarket crusher wear and spare parts.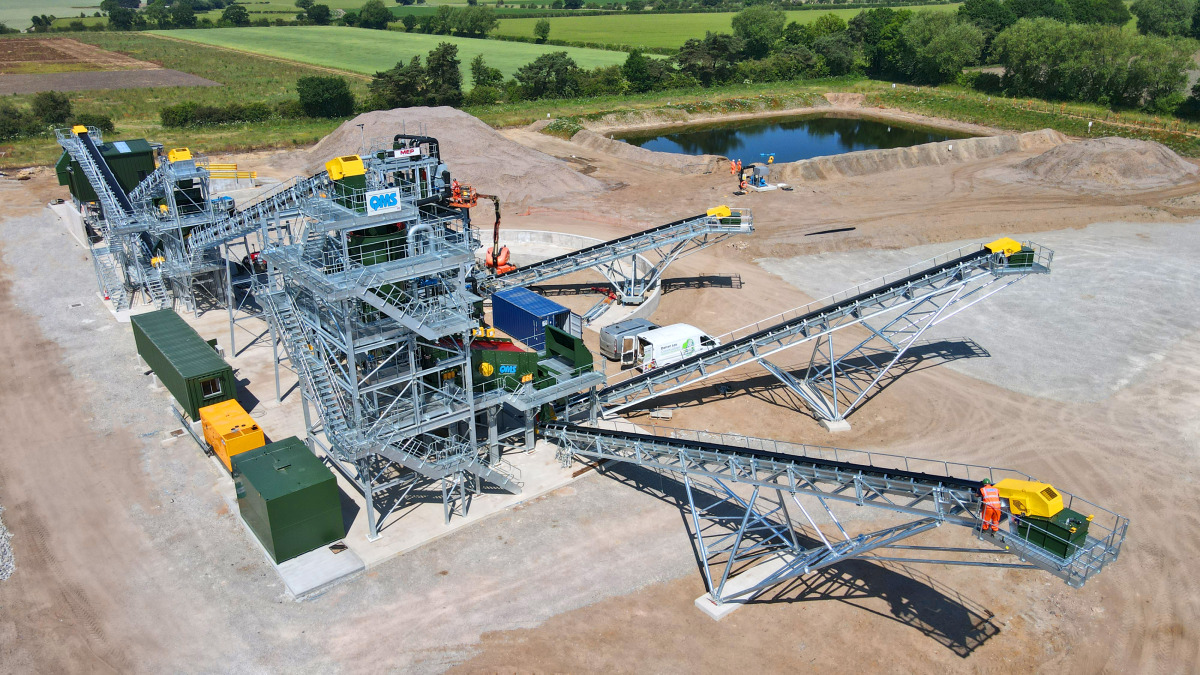 1 Customised sand and gravel plant at Cemex's Pyford Brook quarry
© QMS
1 Customised sand and gravel plant at Cemex's Pyford Brook quarry
© QMS
QMS operates out of its purpose built facility (and two other sites) located in Leicestershire/England, and has established a robust and efficient network for supporting customers across the globe. Company service engineers have provided repair and maintenance to customers, which range from small quarries and recycling plants in the UK, to the largest quarrying and mining operations globally.
QMS has continually invested in new technologies, processes and supplier partnerships, consistently raising the bar, delivering high levels of customer service, product quality and value. In fact, QMS is now recognised as one of Europe's premier manufacturers of bespoke aggregate plants, aftermarket crusher spares, wear parts and bespoke processing equipment. These have been designed to meet the requirements of customers, with QMS always striving to exceed expectations.
2 QMS cone crusher, model B2
© QMS

2 QMS cone crusher, model B2

© QMS

Cemex Pyford Brook Quarry
With a hard won reputation for providing the equipment, parts and services the industry needs, QMS has recently finalised a bespoke sand and gravel plant for Cemex. Working in collaboration with principal contractor MEP (Mineral Engineering Processes), which supplied the specialist sand, dewatering and associated equipment, QMS was tasked with designing, manufacturing, installing and then supporting the new plant which is located near Burton upon Trent at Pyford Brook Quarry.
"We were initially contacted by MEP and Cemex with regards to collaborating with them regarding the new Cemex Pyford Brook sand and gravel quarry. MEP has a leading niche product range which has been designed to enhance sand and gravel production but required a partner to provide the aggregate plant knowledge and equipment to install the primary sand and gravel processing equipment. As the quarry needed a bespoke cost effective solution that had to be built and be made operational to a demanding time frame, and based on our longstanding relationship, MEP and Cemex viewed QMS as the ideal partner," explains company managing director Jonathan Beck.
Productive and accurate
"The Pyford Brook plant has been built to produce sand and gravel at a relatively high production rate of 250 t/h. As the quarry is brand new, and six months ago physically did not even exist, this meant that we had limited time to get the plant design right from the off, incorporating not only our equipment, but also the specialist MEP Hydrolig process. Our processing equipment had to not only be able to meet Cemex's production targets, but also consistently produce the sizes required to make the quarry a profitable ongoing concern," adds Jonathan Beck. The QMS plant at Pyford Brook has been designed with Cemex's targets at its heart but has also been designed to take account of logistical and environmental concerns. Given the rural location of the quarry, and it being a new operation, these were important factors that had to be accommodated. In effect, the quarry (and its material processing equipment) had to be able to produce the products required with minimal disturbance to local inhabitants and the environment.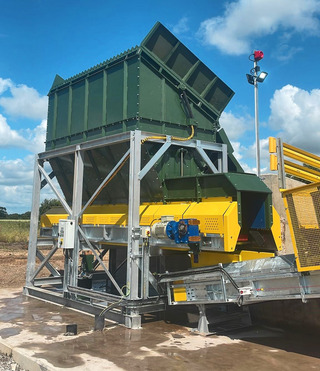 3 The feed material with a particle size of 150 mm+ is loaded into a belt feeder through a hydraulic remote controlled tipping grid, then conveyed to a double deck polyurethane primary screen, with oversize material being returned to the QMS cone crusher
© QMS

3 The feed material with a particle size of 150 mm+ is loaded into a belt feeder through a hydraulic remote controlled tipping grid, then conveyed to a double deck polyurethane primary screen, with oversize material being returned to the QMS cone crusher

© QMS

The design of the plant sees the initial feed material consisting of 150 mm+ sand and gravel being loaded into a belt feeder through a hydraulic remote controlled tipping grid; this is then conveyed to a double deck polyurethane primary screen, with oversize material being returned to the QMS cone crusher. A double deck washing screen then further processes the material to produce a -20 mm product. The end-product is then refined to be used in the manufacture of Ready-Mixed Concrete. QMS also supplied all the support structures, conveying and stockpiling equipment which are fully galvanised and were designed and manufactured in house to EN1090.

The full plant list QMS installed at the Cemex Pyford Brook Quarry consists of:

Belt feeder – P/N FHB-20-1000, 20 m3

Cone crusher – P/N 13100_00, model B2

Primary screen – P/N SVI-B02M, 1.83 x 5 m double deck, polyurethane

Secondary Screen – P/N SVI-G02M, 2.4 x 6.0 m double deck, wash screen

Various galvanised steel support structures, conveyors and stockpilers