Customised in every detail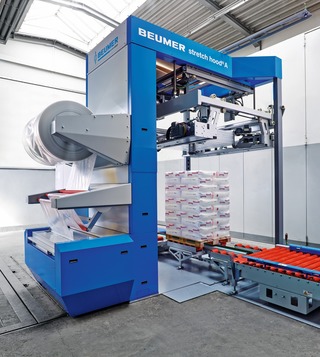 The easy, intuitive and reliable operation of the new BEUMER stretch hood A is especially appealing to customers
© BEUMER Group GmbH & Co. KG

The easy, intuitive and reliable operation of the new BEUMER stretch hood A is especially appealing to customers

© BEUMER Group GmbH & Co. KG

T‌he overland conveyors and the Pipe Conveyor of BEUMER Group can be used by companies to transport various bulk materials, even over long distances and often through rough terrain. High angles of inclination and tight curve radii enable individual routing adapted to the respective task and topo-graphy.

In order to load bulk materials quickly and without dust, BEUMER Group offers bulk loading heads. They are designed according to the double-wall system. The material inlet and the dedusting unit are separated from each other. In order to balance out any minor positional deviations of the vehicle, the bulk loading head can be moved laterally during placement.

A further equipment section are the loading and unloading systems for bags, able to handle railway wagons and ships quickly –with minimal dust emissions and without loss of bulk goods. BEUMER Group provides efficient systems for this purpose which take into account both different ship sizes as well as the space available at the unloading points. The modular design of the BEUMER Group systems makes it possible to present a precisely tailored solution for every requirement.

The BEUMER autopac loads bagged bulk materials like building materials or fertilisers automatically onto the truck bed and to simultaneously palletise them – ensuring extremely gentle handling and the desired packing pattern. The BEUMER autopac consumes only little energy and can be easily operated and maintained. The machine is also suitable for paper valve bags, HDPE valve bags and PP valve bags.

For high-capacity packaging lines, BEUMER Group offers different palletising solutions, depending on the packaged items. The BEUMER paletpac is suited best for bagged bulk material. This system palletises even sensitive and valuable products as well as products with special flow characteristics in a gentle and efficient manner. Depending on the product requirements, these palletisers can be equipped with a clamp-type or twin-belt turning device which turns the filled bags quickly into the required position for stacking, ensuring their dimensional stability without any deformations.

Packaged items stacked accurately on pallets can then be transported successfully to the downstream packaging system – for example, the BEUMER stretch hood. It covers the palletised goods with a highly stretchable film. This ensures that the merchandise is protected reliably against environmental influences such as sunlight, dirt, and humidity during transshipment and outside storage.