Optimum load distribution
New plug-and-play controller extends mining portfolio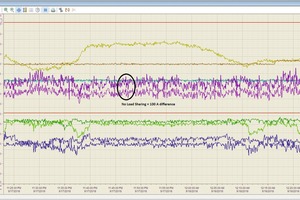 Quelle/Source: Siemens AG
1 Siemens erweitert das Simine-Portfolio für Rollenpressen um einen Plug & Play-Regler zur optimalen Lastverteilung
Siemens adds plug-and-play controller for optimized load distribution to the Simine portfolio for high-pressure grinding mills
Quelle/Source: Siemens AG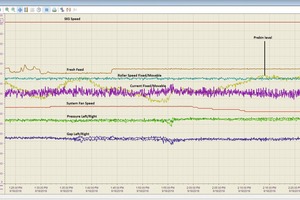 Quelle/Source: Siemens AG
2 KHD Humboldt Wedag hat bei seiner Rollenpresse den Regler selbst eingestellt und im Zuge der ersten Betriebswochen selbständig optimiert. Hierdurch war KHD in der Lage, alle Vorteile des Load Share Controllers bei der Lastverteilung voll auszunutzen
KHD Humboldt Wedag International AG commissioned and optimized the controller self-dependent within the first weeks after production startup. That put KHD in the position to utilizing all benefits of the controller
Quelle/Source: Siemens AG
S‌iemens is extending the Simine portfolio for high-pressure grinding mills (HPGR) to include a new controller. Plug-and-play functionality makes the load share controller available for immediate use. The web-server based operator interface allows the process engineer at any time (on-line and off-line) to adapt the controller parameters and thus optimizing the torque distribution. The controller it is already being successfully used by one customer. Tests before and after optimization have demonstrated great benefits of the optimized controller for the mill.
The new load share controller follows established control scheme. During start of the HPGR the Load Share Controller is inactive. When a certain torque level has been reached the controller takes over load share control already during mill start. If the controller is not ready for use, for example, in the event of disrupttion, the drives do not start. However, operation without load sharing is available. In this case the drives take the speed reference from the mill automation.
The load distribution between the rollers in an HPGM is generally 50:50. The master follows the speed command and the slave follows the torque of the master. If an alternative load distribution is required, it is possible to change the load distribution between the drives using the load distribution factor. The reference torque on the slave drive is then decreased or increased compared to the reference torque of the master drive. At the same time the load share controller maintains the speed difference between the rolls within given limits. Via the web-server based operator interface the process engineer can adjust the load share factor and limitation for speed difference at any time – also during grinding operation.
The plug-and-play system is supplied fully tested and pre-configured. It is ready for immediate use. The webserver functionality allows the process engineer and production engineer easy and quickly access to the parameters of the controller. Programming skills or special equipment knowledge is not required. The controller is available in two versions – optimized for the Siemens controller family Sinamics G150, S120, GM150 and GH180.
KHD Humboldt Wedag, an OEM (Original Equipment Manufacturer) in the cement and mining industry, is already using the load share controller in its Conakry project. Tests before and after optimizing by the process engineer of KHD show the benefits of using this controller. Amongst other things, the change in the roll gap and the roll pressure could be kept in a substantial smaller range.