SENNEBOGEN: 70 t duty cycle crane for maximum versatility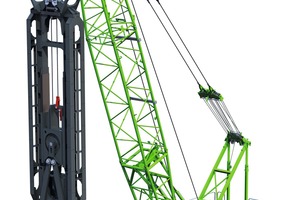 Quelle/Source: Sennebogen
Der neue SENNEBOGEN 670 der E-Serie überzeugt mit vielfältigen Einsatzmöglichkeiten vom Spezialtiefbau bis zur Gewinnung und beeindruckt mit kompakten Transportmaßen # The new SENNEBOGEN 670 in the E-series is ideal for a variety of applications ranging from special underground engineering to mining, and it also impresses with compact transport dimensions
Quelle/Source: Sennebogen
W ith 65 years of experience in the design and construc tion of cranes, SENNEBOGEN machines have been winning over customers all over the world for decades. The duty cycle cranes are designed specifically for the highest requirements of heavy-duty use. The SENNEBOGEN 670 in the E-series is a new 70 t duty cycle crane which is easy to transport and offers versatile application options.
The new SENNEBOGEN 670 HD duty cycle crane of the current E-series was designed especially for demanding, dynamic applications with a wide variety of equipment. With a total of three engine variants – 298 kW in the Tier 3a version and 261 kW or 321 kW in the Tier 4 version – and a load capacity of up to 70 t, the machine opens up a broad spectrum of application areas.
Thanks to its robust construction, a powerful multi-circuit hydraulic system, and the strong slewing drive, the 70-ton duty cycle crane is particularly well-suited to special underground engineering. Applications with leaders or diaphragm wall grab can be realized just as reliably as the operation of hydraulic casing oscillators for well construction or special underground engineering.
Equipped with clamshell grab or drag-line bucket, the SENNEBOGEN 670 reveals its strengths in hydraulic engineering and mining applications as well. Here, two 16 t freefall winches ensure an optimal pulling force. These winches are also available in the heavy-duty 20 t version as an option. With maximum boom lengths of up to 56.9 m and an auxiliary jib and fly boom as options, the duty cycle crane is also ideally equipped for use as a crane.
The compact duty cycle crane really comes into its own on construction sites where space is tight. The SENNEBOGEN 670 is ready for operation within a very short time and stands firmly and safely on its 700 mm 3-grouser base plates thanks to the telescopable crawler chassis.
Compact dimensions and an easy ballast mounting system save time and money when transporting between construction sites. With the crawler chassis telescoped in, the machine has a width of just 3.0 m.
The modern Maxcab comfort cab provides the operator with an ergonomic work environment. The cab can be optionally designed for inclination by 15 degrees or elevation by 2.70 m, in order to allow an even better view of the attachment and the work environment.
Hall E6, D 088