Siemens supplies electrical equipment for underground copper mine in Mongolia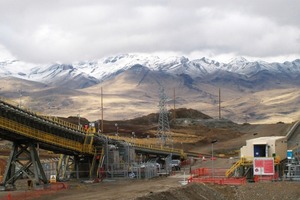 Quelle/Source: Siemens
Siemens liefert für ein Förderbandsystem der Oyu Tolgoi Kupfermine in der Mongolei ein getriebeloses Antriebssystem – wie hier für die Las Bambas Kupfermine in Peru • Siemens supplies a gearless drive for a conveyor belt system to Oyu Tolgoi copper mine in Mongolia – as here for the Las Bambas copper mine in Peru
Quelle/Source: Siemens
Siemens is undertaking the engineering, design, production and supply of the electrical equipment for the Oyu Tolgoi copper mine conveyor system. The mine is approximately 550 km south of the capital city of Ulaanbaatar and is located in the province Aimag of Umnugovi in the Southern Gobi region of Mongolia. The Oyu Tolgoi mine complex is a joint venture between the Mongolian government and Turquoise Hill Resources with Rio Tinto as the majority owner of Turquoise Hill Resources.
The delivery comprises the new conveyor system with gearless and conventional drives from thyssenkrupp Industrial Solutions. The new system extends the existing opencast mining facility and is expected to bring 95 000 t of copper ore to the surface per day. The conveyor system has to overcome a difference in height of almost 1400 m. Initial production is expected to commence in 2020. The order value is in the tens of millions of Euros.
Siemens is supplying thyssenkrupp with state-of-the-art electrical equipment consisting of 8DA10 (gas-insulated) and NX-AIR (air-insulated) medium-voltage switchgear, transformers, low-voltage energy distribution, Sinamics SL150 and Sinamics S150 frequency converters as well as low-speed synchronous motors with a nominal power of 5.5 megawatts and smaller squirrel cage induction motors. The delivery also includes pre-assembled 'E-Houses' for installing the equipment as well as power factor correction and harmonic filtering equipment. To fulfil the requirements of the underground environment the dimensions of those "E-Houses" were reduced to an absolute minimum.
The transport system consists of a total of nine conveyors – seven underground and two at surface. Four of these conveyor belts have a gearless design, each with two 5.5 megawatts drive systems. As one of the leading global providers, thyssenkrupp Industrial Solutions specializes in planning and supplying advanced mining and conveying systems. By using Siemens technology, the industrial group has already achieved one of the longest and most powerful conveying systems in the world.