Terratec-Basalt improves cost efficiency with Lokotrack LT220D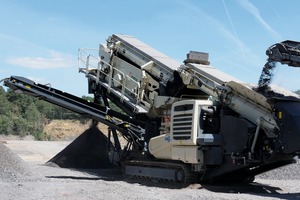 Quelle/Source: Metso
1 Lokotrack LT220D mit einer Leistung von 150 – 250 t/h • Lokotrack LT220D with a capacity range of 150 – 250 t/h
Quelle/Source: Metso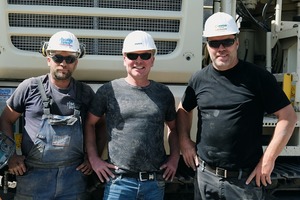 Quelle/Source: Metso
2 Terratec-Basalt Geschäftsführer Karl-Werner Bierbrauer (rechts) mit Metsos Händlermanager in Deutschland, Hugo van Benthem und Servicetechniker Sven Jansen von Fischer Jung • Terratec-Basalt's Managing Director Karl-Werner Bierbrauer (right) with Metso's distributor manager in Germany, Hugo van Benthem, and service technician Sven Jansen from Fischer Jung
Quelle/Source: Metso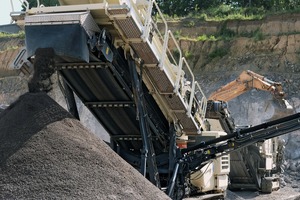 Quelle/Source: Metso
3 Mit der neuen, mobilen Aufbereitung im Steinbruch mit LT106 und LT220D setzt Terratec bei der Produktion anstatt auf Masse vor allem auf Qualität • With the new mobile processing at the quarry with LT106 and LT220D, Terratec is going with class rather than mass in production
Quelle/Source: Metso
Operating an old quarry cost efficiently sometimes means venturing down new roads in the production process. At the quarry operated by Terratec-Basalt GmbH, the plan is to lower operating costs. For this reason, the stationary processing plant is being replaced with a mobile unit. Metso's new Lokotrack LT220D is a "two-in-one solution" to help the company achieve the goals it has set.
"From the step-by-step reorganization of our quarry and operation with mobile plants, we are expecting substantial cost benefits. We're working on savings of 25 – 30 %, that's around 1 – 1.50 €/t," says Karl-Werner Bierbrauer, Managing Director and owner of Terratec-Basalt GmbH. "The savings come primarily from halving of the costs for transporting the blasted rock. The old stationary pre-crusher is installed on top of the mountain, but now the rock only has to be transported to the mobile Lokotrack unit set up nearby," he adds.
Breathing new life into an old quarry
The A. Caspar Basalt-Lava Works in Ettringen, near Mayen-Koblenz, has been known for its high-quality construction materials made of basalt and basalt lava since 1962. The family-run company was taken over by Terratec-Basalt GmbH in 2017. "With the acquisition of the quarry, we are expanding our operations, the focuses of which have been hiring out our mobile crushers and screens and construction machinery, haulage services, civil engineering and the recycling of waste construction materials and soils. For the time being, we shall operate both the stationary and mobile plant, but hope to be able to shut down the stationary operation in two years," says Karl-Werner Bierbrauer. At present, 12 Lokotracks are in use.
Two track-mounted crushers and a mobile screen
The new mobile processing operation comprises three track-mounted units from Metso – the Lokotrack LT106 jaw crusher, the ST2.4 mobile screen and the LT220D gyratory crusher with screen. The LT220D is the first crusher of its type in use in Germany.
The blasted basalt or basalt lava is first pre-comminuted in the LT106 precrusher. Then the material is screened at 80 mm on the ST2.4. The oversize in approx. 80 – 120 mm is further processed in the LT220D gyratory crusher/screen plant. The most important finished products are 0 – 2 mm, 2 – 8 mm and 8 – 16 mm grades. The high-grade products are used in a wide range of applications in the region: in road construction, as insulating material as well as for numerous other uses in the construction industry.
Terratec-Basalt wants to optimally use the resources at its quarry and maximize the added value. The capacity range of the mobile Lokotrack process with 150 – 250 t/h fits in perfectly with these production goals.