SPECIAL bauma 2022
Lutze Group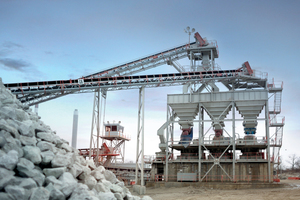 © Lutze Group
1 One of the many possible applications of our wear protection solutions – crusher feed bunker
© Lutze Group
In Northern Europe, the Lutze Group offers comprehensive industrial services that are individually tailored to the respective applications. With a wide range of conveyor belts and accessories, the Lutze Group is a reliable partner for all questions relating to the operation of conveyor systems. The focus is not on the individual product of a static portfolio, but on a sustainable, innovative, and solution-oriented concept that offers the customer long-term added value and cost security. High quality standards, as well as years of partnership with the customers form the basis for this.
Stagnation means regression! That is why the company is constantly looking for better solutions for the customers. This applies to the operation of conveyor systems and machines, but it also applies to sustainable methods of repair and maintenance. To further develop solutions to wear, noise and caking problems, the product portfolio has been completed with highly wear-resistant, mechanically fastened products. These range from rubber elements to polyurethane, PE, as well as solutions in PU and ceramics or rubber and ceramics combination, to steel plating.
Customer-specific concepts are developed, and tailor-made solutions are offered. Typical applications for this are heavy duty bunker, vibrating chutes, silos, concrete mixers, chutes, washing drums, mill lining and conveyor belt transfer points, i.e. wherever material touches surfaces and causes wear.
LMS – the new modular wear protection system
A quick and easy replacement of worn elements is becoming increasingly important as it currently hits into the customers' budgets. Therefore, the LMS modular wear protection system for linings of e. g. bunkers etc. was developed. Lutze offers the LMS system in wear resistant rubber, polyurethane, polyethylene and as a rubber/ceramic hybrid variant in thicknesses from 30 mm to 100 mm. The modular system consists of trapezoidal panels with dimensions 250/500 x 500 mm. These are securely screwed to the substructure with 3 fastening points. Due to its modular design, small areas of wear can be replaced with little effort. This significantly reduces the overall wear and tear costs. Another advantage is the trapezoidal shape. Less wear is generated at the joints. The standardized module size also minimizes storage costs.
For further information and questions, please contact our wear protection product manager Mr. Johannes Klöpper (Tel. +49 151 42634783) or visit
Booth B2.514