New concept in future
POWTECH to rebrand as POWTECH TECHNOPHARM from 2025
POWTECH, the International Processing Trade Fair for Powder, Bulk Solids, Fluids and Liquids, is expanding its importance as the technology platform for the processing sector, and will in future operate under a new branding as POWTECH TECHNOPHARM. POWTECH 2023 will take place under its known name; POWTECH TECHNOPHARM will follow from 23 to 25 September 2025 at the Exhibition Centre Nuremberg, where it will be co-located with PARTEC 2025 and FACHPACK 2025.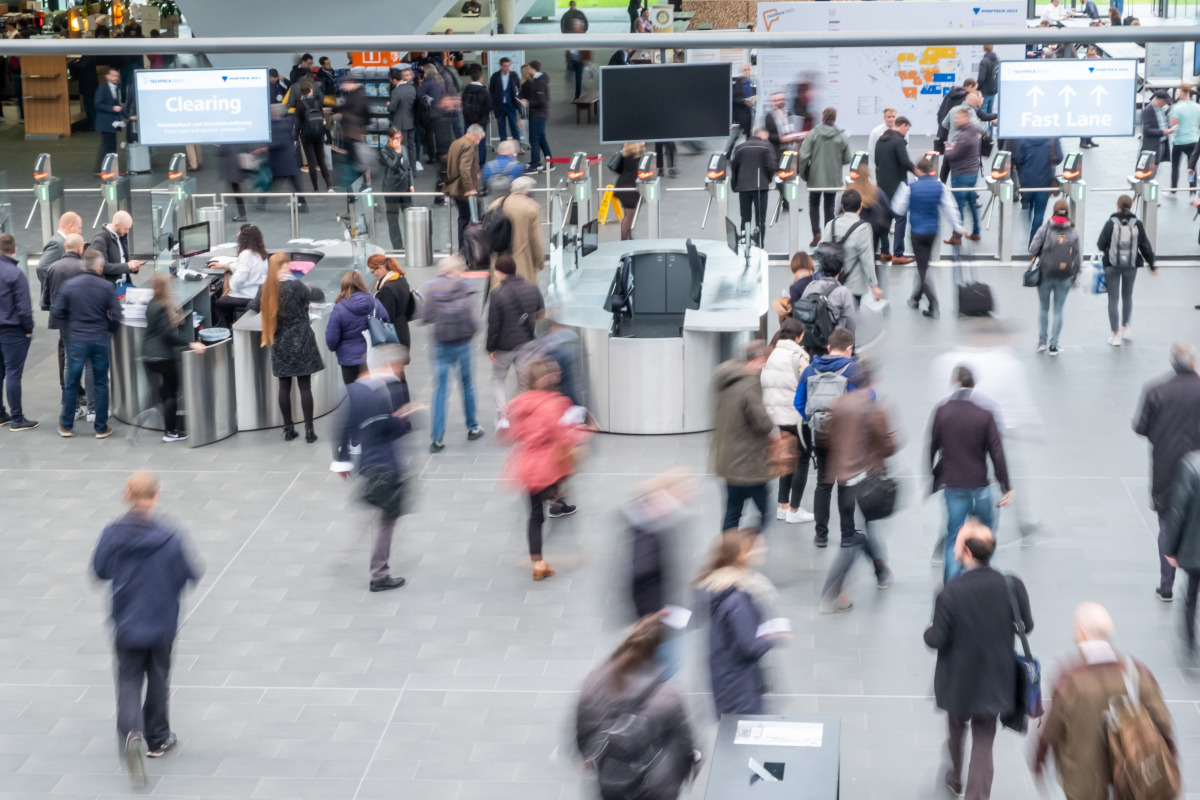 1 Trade fair visitors at POWTECH 2022
© NürnbergMesse
1 Trade fair visitors at POWTECH 2022
© NürnbergMesse
With this new enhancement, POWTECH, as POWTECH TECHNOPHARM will provide the perfect platform for the growing pharmaceutical and life sciences industry. POWTECH is consistently fine-tuning its efforts to promote the process engineering sector and adopting the current trends of deglobalization and re-Europeanization, all of which underlay its decision to rebrand.
POWTECH is a technology trade fair for everyone involved in processing and analysing powders and solids in the manufacturing industry, using mechanical engineering and other engineering processes, regardless of whether the raw materials or the intermediate or end products are in powdered, solid, paste or liquid form. That covers many sectors, especially the chemical and cosmetic industry, food and feed, pharmaceuticals and batteries. The TECHNO-PHARM component will be dedicated to pharmaceutical process engineering, which intersects with mechanical process engineering – in the manufacture of solid drugs in tablet form or the production of cough syrups by dissolving solids in liquids, for example. In addition, the pharmaceutical and life sciences industries need apparatus and plants to manufacture liquid, semi-solid, sterile and aseptic products, which are filled into containers such as vials and syringes. These processes are especially important for biotechnology, which offers market opportunities across a range of sectors.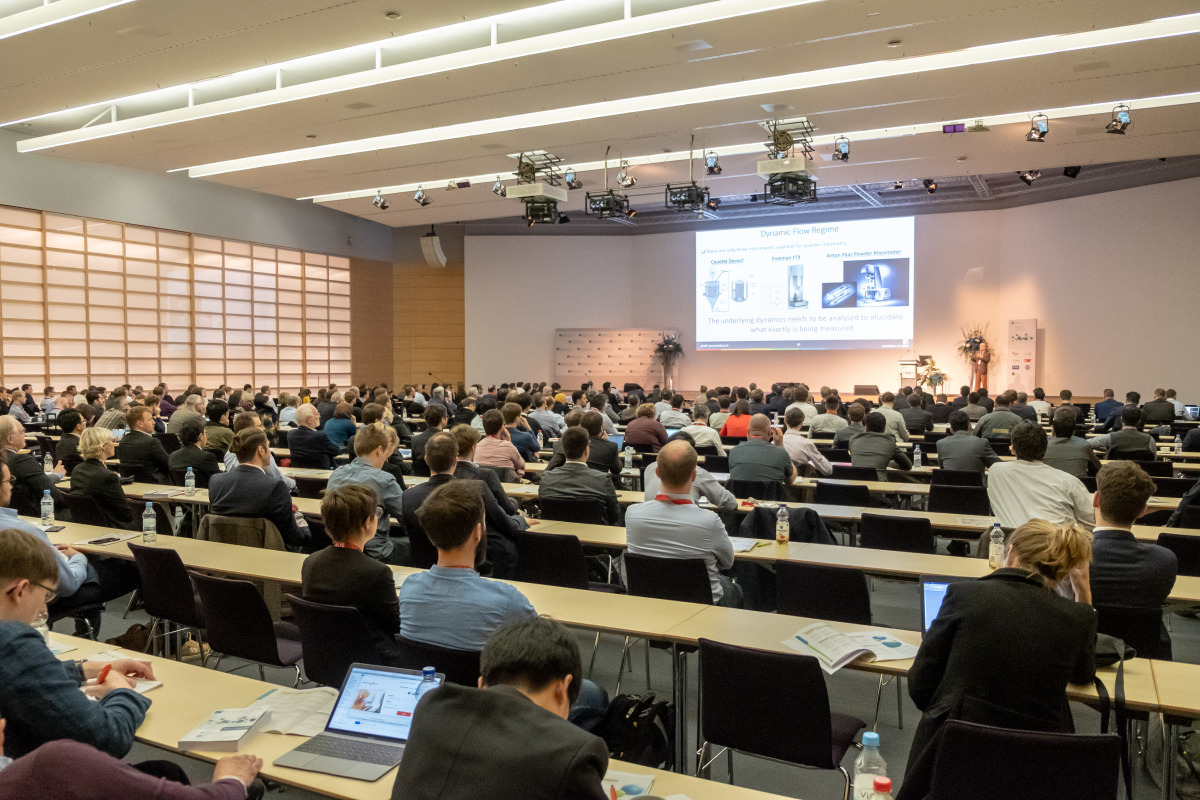 2 PARTEC 2023 brings the international scientific community together with an inspiring three-day programme under the banner of "Particle Technology for Sustainable Products"
© NürnbergMesse
2 PARTEC 2023 brings the international scientific community together with an inspiring three-day programme under the banner of "Particle Technology for Sustainable Products"
© NürnbergMesse
Heike Slotta, Executive Director Exhibitions at NürnbergMesse, explains the motivation behind the new strategy: "The combined POWTECH TECHNOPHARM brand offers a home for the providers of process engineering and also for their customers. It is a three-day working trade fair for talking shop and finding solutions, with hands-on technology and a European focus. And an important new development for the community is the fact that the strategy is being relaunched and adapted to meet current requirements."
PARTEC once again included for the launch in 2025
In 2025, too, POWTECH TECHNOPHARM will be paired with PARTEC, the international scientific congress for particulate experts. That will be another highlight of the trade fair as a technology forum for mechanical process engineering.
New cycle to benefit the sector: Co-location with FACHPACK every three years
Participants at POWTECH TECHNOPHARM will also benefit from the fact that, every three years, the trade fair will be held in conjunction with FACHPACK, the European Trade Fair for Packaging, Technology and Processing. When rescheduling because of the pandemic resulted in POWTECH 2022 being held in parallel with FACHPACK 2022, trade visitors at both events were impressed by the combination of processing and packaging: In the visitor survey, 35.5 % of trade visitors said they would visit both events. And in the exhibitor survey, nearly half of the POWTECH exhibitors indicated they had reached visitors of FACHPACK. Interaction within the exhibitor network also functioned extremely well, with 42 % of POWTECH exhibitors and one in five FACHPACK exhibitors saying they had visited and obtained information on the other trade fair.
In a survey, two-thirds of the POWTECH exhibitors stated to be in favour of a permanent autumn schedule for the event. This results in the co-location with FACHPACK every third year, followed each time by POWTECH TECHNOPHARM on its own, and then a planned gap year. September is a free month in the trade fair calendar for the processing industry, and offers a fixed date outside the European summer holidays that will be easy for trade visitors in particular to remember.
Top-quality programme at the 2023 PARTEC Congress
It is rare to find two top international players that fit together as perfectly as PARTEC and POWTECH, the Congress and Trade Fair for particle and bulk solids technology, taking place in Nuremberg from 26 to 28 September 2023. PARTEC 2023 brings the international scientific community together with an inspiring three-day programme under the banner of "Particle Technology for Sustainable Products". The special focus of the more than 300 lectures and more than 150 poster presentations, given in English by 297 speakers from 25 countries, is on boosting process and energy efficiency. As the companion congress to the trade fair, PARTEC also offers more good reasons for all POWTECH visitors with a scientific interest to attend.
Particle technology experts from the fields of science and industry are expected in large numbers at the Nuremberg exhibition venue from 26 to 28 September 2023. At PARTEC, one of the largest and most important international congresses for particle and powder technology, experts from science and industry present and discuss the latest developments in particle and powder technology. Every bit as important as the keynote lectures and panel sessions in the seven-stream programme are the lectures by the new scientific talents: More than 300 talks and 150 poster presentations will provide additional, profitable stimuli. Another exciting highlight is the presentation of the Friedrich Löffler Prize for Young Scientists on Day 2 of the Congress, and an award ceremony for the best poster on Day 3.
Sustainability is the theme for this year's Congress, one to which both researchers and representatives of industry are increasingly dedicating their efforts. The trade fair in Nuremberg provides support for professional interaction and networking in equal measure – at the poster session, for example, at a gathering at one of the trade fair stands, or at the Campus Pavilion. That means trade fair visitors and exhibitors can benefit from the insights of scientists and industrial experts in the same measure as the researchers, who can directly discuss new scientific approaches with practitioners in their target group. The large-scale trade fair party, attended by exhibitors and PARTEC delegates, will also offer plenty of time for everyone to get to know each other and interact.
Congress chairman Dr Arno Kwade says: "In addition to the traditional fields, PARTEC 2023 also addresses the emerging fields of research and application in particle technology. In the context of climate change, in particular, sustainability and the circular economy are becoming increasingly important." PARTEC 2023 aims to acknowledge this transition with its overarching theme of "Particle Technology for Sustainable Products". There will therefore be a special focus not only on top product quality but also on maximizing material utilization and energy efficiency in the processes involved, as well as on energy transition products such as batteries.