XCMG reveals its award-winning decorated graders that has put into use at Turkish mining project
27.07.2022
The GR2205 graders developed by leading Chinese construction machinery manufacturer XCMG (SHE:000425) and featuring unique decoration of Chinese mythological creatures are now deployed to work on road building and maintenance at the magnesite mines project in Turkey.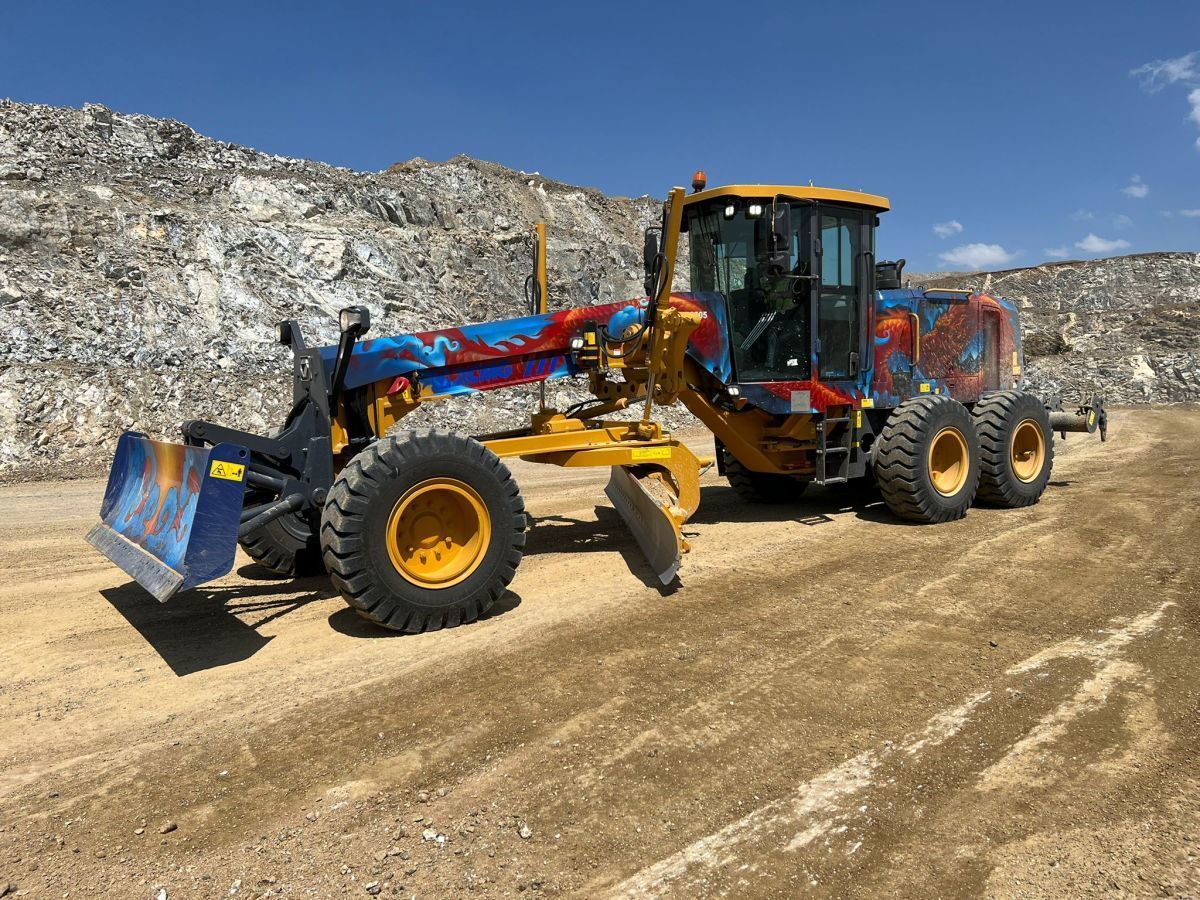 © XCMG The magnesite mining project is by MAGNESIT A.Ş, which was founded in 1984 and conducts sub-contracted works in magnesite mines. The company has been operating with its 45 trucks, eight trailer trucks and many construction machines in transportation and mines. GR2205 is being used in mines for road building. The GR2205 motor grader highlights advanced technologies and intelligent features that make it a preferred choice for various leveling operations:
· Optimized maneuverability: load sensing hydraulic system, human-computer interaction, electro-hydraulic controlled parking brake and integrated shovel blade floating technology
· High reliability and adaptability: rear and front axels with stronger loading capacity, sturdy and durable rack structure, standard air pre-filter and intake air preheating system, meets heat dissipation performance requirement at 50 degrees Celsius
· Intelligent controls: variable power control, cruise control function, temperature control with independent cooling system and the function of preventing gearing in parking
· Guaranteed safety: more comprehensive lighting system, reverse camera, double emergency stop control, ground filling of fuel, better vision, dual rear-view mirrors and dual circuit braking system
· Comfortable operating experience: human-centric settings, optimized in-cabin control layout, more comfortable suspension seat and all-around air-conditioning ducts with heating and cooling air conditioners


© XCMG The customized graders delivered to MAGNESIT A.Ş are vividly painted with four Chinese mythological creatures: blue dragon, white tiger, suzaku and basaltic. The decoration shows the unique beauty and charm of the East as well as XCMG's confidence in building great power pillars and making the world a better place. Just this month, this unique painting design from XCMG has won a bronze award at the 22nd IAI Award, a prestigious award that honors outstanding designs and XCMG is the only construction machinery manufacturer to win the award with the creative design and strong market impact. "The GR2205 graders has very good adaptability to the working conditions in Turkey, showing stable equipment status and high reliability in construction, and we also like the unique painting of Chinese mythological creatures a lot," said Amari Suat PEHLIVAN, project manager of MAGNESIT A.Ş.