SSAB to present their Hardox Wearparts Network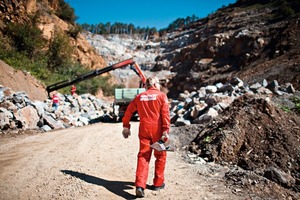 1 Nur ausgesuchte und von SSAB zertifizierte Unternehmen können Mitglieder im Hardox Wearparts Netzwerk sein ● Only selected companies, which have been certified by SSAB, can become members in the Hardox Wearparts Network
SSAB will present their Hardox Wearparts Network (Fig. 1) at stand C 9 of steinexpo. Hardox Wearparts is the largest supplier of wear parts worldwide. Alone in ­Germany there are nine companies that manufacture and supply wear parts of Hardox of highest quality.
Only selected companies, which have been certified by SSAB, can become members in the Hardox Wearparts Network. Therefore, the users may be sure that the partners of Hardox Wearparts are distinguished by many years of experience, a high service level and competent expertise.
Another advantage is that the standard sizes of the Hardox wear plates are available in more than 75 local stores worldwide. Thus, the plates can be dispatched within 48 hours. This service ensures a maximum availability of machinery and equipment in the extraction industry.
Worldwide Hardox is a synonym for highest wear resistance. If dump bodies, shovels or crushing plants are concerned, everywhere where material gets in contact with machines and equipment, Hardox wear plates can be found.